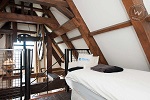 We all know that big things come in small packages and Amsterdam, one of the most seductive and cozy European capitals, definitely packs a big punch. The northern city of canals with its lovely houseboats, open-minded attitudes, and typical 'bruine kroegen' (meaning 'brown cafés', the Dutch version of dimly lit, cool bars) has plenty to offer its visitors. Nevertheless, Amsterdam's vacation rental scene is brimming with creative options to ensure your trip is just as unique and exciting as the city itself. A short weekend stay in the inner city, or how about a nice secret getaway for a bachelor party or weekend with great friends? You can rent a variety of nice apartments near any of Amsterdam's famous district's for the appropriate price. If you are thinking about something more luxurious, such as a nice penthouse loft with a roof terrace overlooking the canals of the Prinsengracht, or even a luxury apartment rental in the Jordaan. The options are plentiful: whether you're looking for a cheap bed and breakfast in Amsterdam, a trendy apartment rental, or characterful houseboats in the magical canals of the city, or other wildly strange and wonderful accommodation options, Wimdu has you covered with its excellent array of vacation rentals or bed and breakfast options for the smart, budget-minded, or highly adventurous traveler.
Did You Know? About Amsterdam
Amsterdam has more canals and bridges than Venice!
Amsterdam has more bikes than inhabitants, there are nearly 890 000 bikes in the city alone!
Bloemenmarkt, Europe's only floating flower market can be found in Amsterdam.
Surprisingly, Amsterdam boasts great city beaches.
There are more than 2500 houseboats in Amsterdam.
The cosmopolitan Dutch capital accommodates the greatest number of nationalities in the world (178 in 2010).
Amsterdam is the city with the world's highest museum density (over 60).
What You Should Do in Amsterdam: The Top Places to Visit
Amsterdam is undeniably one of Europe's major cultural hubs. Dutch culture is associated wuith clogs (wooden shoes) and winding canals. Top-class museums such as the Rijksmuseum, the Van Gogh Museum, and the Stedelijk are a real treat for any art lover in this magnificent city. The city is very walkable, therefore we recommend travelers to find a nice apartment rental close to the main sightseeing options. For instance, you can visit the iconic Anne Frank House, the Dutch Resistance Museum, the archaeological Allard Pierson Museum, the Jewish Historical Museum and the Amsterdam Museum - whose lovely exhibits illustrate the city's past from the Middle Ages up to the present age – all wonderful destinations to indulge your passion for history and culture, all within your reach.
Like we mentioned before, Amsterdam is compact enough to navigate on foot. Depending on what you're looking for, the city has a neighborhood for just about everyone, from the touristy Old Center with its monumental Dam Square, infamous Red Light District, and vibrant Old Jewish Quarter to the upscale Jordaan, where enchanting courtyards and old-fashioned facades adorned with colorful stone tablets rub shoulders with hip restaurants and creative art studios. Choosing a vacation rental here in the one of these areas will definitely make you experience how it feels to live like a local. If you are on a tighter budget, you can easily book a fabulous bed and breakfast near the Leidse Square or stay in a fantastic sunny studio apartment rental near the famous Vondelpark. These areas are very popular as a starting point for you to explore the Amsterdam inner city.
Dutch people are friendly and they speak the English language very well. They will gladly help you getting around if you are lost in one of the side streets near the canals. Looking for an even more local experience? Book something through Wimdu near other must visit destinations in Amsterdam. The exceptional UNESCO-listed Canal Ring with its chocolate-box 17th century canal mansions; the South where the Museum Quarter, the sprawling Vondelpark and the atmospheric Albert Cuyp street market make for an excellent day out; and Amsterdam's Eastern Docklands – a modern neighborhood jam-packed with cutting-edge architecture, hip fashion boutiques, and lovely boat restaurants. Equally interesting sights are the sleek Heineken Experience on Stadhouderskade and the FOAM - a wonderful photography museum on the Keizersgracht canal, and the Concertgebouw, one of the finest and most visited concert halls in the world, with almost 800 shows each year. For a true taste of the city's easy-going lifestyle, burgeoning coffee culture and vivid local colors, throw away your carefully planned to-do list and let yourself get lost in the picturesque canal-lined streets of Amsterdam. Chances are you'll stumble upon an architectural marvel, a quirky shop with its own tale to tell, or at least a cozy 'brown café' where you can take in the pulse of the nation over a nice brew. This is Amsterdam, one of the world's most libertine and forward-thinking cities, a place that almost begs you to experience the thrill of a serendipitous discovery.
Here's Where You Should Go Shopping in Amsterdam
Amsterdam's shopping scene ranges from outposts of the most famous high-end retailers to gorgeous antique shops, trendy malls and funky, independent boutiques with their own individual style and philosophy. When looking for international luxury brands and exquisite footwear, you can also try your luck PC Hooft street. For keen fashionistas, however, the famous Nine Little Streets will definitely serve their needs. What really makes shopping in Amsterdam a unique experience, though, is the abundance of antiques and quirky vintage shops which have sprung up around hipster Nieuwe Spiegelstraat and the central Spiegelgracht canal in the last couple of years. The city's lively street markets are also worth a look to pick up some fresh local produce, flowers, books, second-hand clothing or handicrafts. Some of the best include: Waterlooplein – Amsterdam's largest flea market; the vibrant Albert Cuyp Market; the Noordermarkt, in the old Jordaan area – a great place to buy organic farmer's produce; and the Bloemmarkt – a dazzling row of house-boats selling all kinds of colorful flowers and fragrant shrubs.
How To Get Around Amsterdam and The Netherlands
Amsterdam is Europe's romantic capital of all things bicycling; so, be brave and rent a bike for yourself and your friends to explore this wonderful city the way the locals do! Also, having a bicycle handy makes getting around quicker and easier. Alternatively there is the Amsterdam tram system, connecting the Dutch capital with its various other districts and suburbs, and the Amsterdam Central Station. As the capital of the Netherlands, Amsterdam is a logical starting point for anyone desiring to venture into greater Holland. Internationally famous cities such as The Hague (location of the International Court of Justice), Rotterdam, Haarlem, and Utrecht are just a train ride away.