Apartments, Vacation Rentals, and Bed and Breakfasts in Barcelona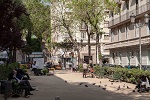 Barcelona is the capital of Catalonia, a region of Spain with its own unique language, character, and history. A classic Mediterranean city, Barcelona has a rich history and is an important cultural center within Europe. Spain's second largest city is well known for its stunning architecture and excellent beaches, but perhaps its most appealing characteristic occurs at night when the city truly comes to life. The city offers visitors a wide array of attractions, world-class beaches, spectacular historical sites, as well as some of the most renowned galleries and museums in the world. Barcelona is an economic, cultural, and sporting hub of the Catalonian region.
Historic, Trendy, or Sunny Barcelona: Where You Should Stay
Central Barcelona is adorned with various hotels and hostels, but a more authentic and affordable option is to find a typical Barcelona vacation apartment to meet your individual needs. Providing all the household amenities you would expect from your own home, an apartment rental is the best way to soak up the atmosphere of the busy metropolis. Our favorite place to stay in Barcelona is right on the beach, with Wimdu offering hundreds of beautiful apartments and villas by the glorious Mediterranean sea. A villa or large, family-sized vacation rental in Barcelona allows you more space and privacy and maybe even your own pool. Being located right on the beach is a great chance to soak up the beauty of Catalonia's coastline, whilst still remaining close to the cultural attractions of the city center. Along with the added benefit of helpful tips from your accommodation hosts, vacation apartments and bed and breakfasts offer you a unique insight into Barcelona's real heart and true feeling, far-fetched from the sterile tourist bubble of hotels and hostels. Wimdu offers a great range of cheap vacation apartments in Barcelona that can give you a real feeling for life in a bustling Spanish city and European cultural epicenter.
Did You Know? About Barcelona
The National Geographic has named Barcelona as the "Best Beach City", but until 1992, Barcelona proper did not have any beaches. It was the arrival of the Olympics to Barcelona in this year that led the city to design and construct its current man-made beaches.
The Camp Nou, home to soccer club FC Barcelona is the biggest stadium in Europe with a maximum capacity of 100,000 people.
The Sagrada Familia cathedral is taking longer to construct than the Great Pyramids of Egypt.
Barcelona attracts over one million visitors per week.
There are two legends about the origins of Barcelona. One is that the city was founded by Hercules before Rome as even built, the other says that the father of Hannibal founded the city around 300 BC.
What You Have to See in Barcelona
Barcelona has a long standing history as one of Europe's greatest cultural powerhouses, and its artistic heritage in particular, is second to none. From the shimmering landmarks of the financial district to the gothic treasures and outrageous architecture of Antoni Gaudí, the Catalonian capital is abundant in cultural and artistic delights.
Here are our top 5 must-sees for every visitor to the city:
Sagrada Familia: The most popular landmark in the whole of Spain, this magnificent cathedral was designed by the famous Catalan architect Antoni Gaudí, who also designed many of Barcelona's signature attractions. Building on the Roman Catholic basilica began in 1882 and is still under construction today, the project is set to be completed in 2026 to the coincide with the 100th anniversary of Gaudi's death. It receives over two million visitors a year and is one of the most acclaimed buildings in Europe. However, Gaudi's work was originally met with unease, and recognition was to come long after his death.
La Rambla: Barcelona's most famous boulevard is a hive of activity. Street performers, restaurants, bars and excellent markets are just some of the attractions which sees so many visitors descend on the street. Lined by beautiful trees and stretching 1.3 km from Plaza Catalunya down to the ports and beaches, the road used to be a river bed. Today, it is the main street in the city for tourists. Did you know that La Rambla is actually composed of five different streets in a row?
Barceloneta: Stretching over 4.5km of coastline, Barcelona's beaches are one of the city's main lures. Renovation, brought about by the 1992 Olympics, has seen the former port and wasteland turned into one of Barcelona's most thriving and fun areas, with great bars, hotels, restaurants and most importantly seven magnificent beaches offering locals and tourist access to the beautiful Mediterranean.
Parc Guëll: The fairy tale-like complexion of the park's buildings have drawn visitors to Barcelona for many years and are probably the most personal and interesting buildings of Gaudi's large portfolio in the city. The most famous attraction in in the park is known as the Salamander Structure and is one Barcelona's main postcard shots.
Camp Nou: The legendary home of FC Barcelona is one of the city's most visited sites. Holding up to 100,000 passionate fans, this breathtaking stadium houses one of the world's most famous soccer teams. On top of its sporting significance, the arena also holds a historical and cultural importance to Cataluña, dating back to its role in undermining of the Franco's dictatorship regime. Take a tour of the ground to learn more, or if you are luckily enough grab a ticket and experience the awe-inspiring nature of European football and the electric atmosphere that surrounds it.
Getting Around Barcelona
Barcelona's main international airport is Barcelona-El Prat, situated just 14 km from the city center. Regular shuttle buses and a metro line ferry flyers between the city and the airport. During your time in the city it's a great idea to take advantage of Barcelona's 10-journey tickets which offer great value. Once you have got your bearings however, you should certainly make use of the best way to see Barcelona – by exploring on foot. All the major attractions can be comfortably found from simply walking around. This makes it easier to choose an apartment rental or a accommodation in Barcelona, as you can just rent the vacation apartment that suits your needs the most, without having to worry about the proximity to the city's major attractions. Finally, complete your break in Barcelona by taking the Telefèric de Montjuïc cable car, which links the city to the top of Montjuïc, location of Montjuïc Castle, an old military fortress, which offers excellent views of the city and the surrounding Mediterranean scenery.