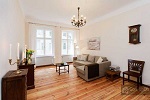 Enter Berlin, capital city of Germany and new home of the modern Bohemian lifestyle. Famously described by German politician Klaus Wowereit as "Arm, aber sexy" ("Poor, but sexy"), thousands of foreigners flock to Berlin year after year to begin new lives and experience this amazing postwar capital city and center stage of the Cold War. Its recent history of division from the Berlin Wall, the reunification of East and West Berlin has resulted in a contemporary , highly tolerant, pioneering, and young metropolis at the forefront of both European and German politics and economy. In recent years, however, Berlin's reputation as a city for 'starving artists' has been diminishing and the influx of foreign investment and apartments in Berlin means that this city will be changing face with the coming decades, bringing it up to par with other, more developed European capitals such as Paris or Moscow. Proof of this development can be seen in Berlin's popularity as continental Europe's start-up capital, also due to its cheap rent and ease of founding new ventures.
Welcome to Berlin: Known for its Alternative Style, Cheap Accommodation, and Infamous Party Atmosphere
Paying the capital city of Germany a visit is a must in anyone's guidebook for traveling to "the Fatherland". Wimdu has a wide range of vacation rentals and apartments in Berlin, offering you a unique experience where you can truly "live like a local" in this re-invented, alternative city. Why not try out one of the over 2,500 apartments for rent or bed and breakfasts available in Berlin, all owned and operated by authentic Berliners who live and breathe everything about the German capital. Their vibrant personalities and tips on where to go and what to do in Berlin will be a limitless treasure trove of information to help you avoid tourist traps and really enhance your overall trip experience. Go and find a vacation apartment or similar trendy accommodation in the hip international district of Kreuzberg for the summer months, or quickly book some modest short stay accommodation in Berlin-Mitte, right in the center of town and next to all the major hotels, conference centers, and transportation links. Or how about a quaint "altbau" (pre-WW2 style) rental apartment, or an authentic bed and breakfast experience in happy-go-lucky Prenzlauer Berg, one of the prettiest parts of town and the first major district of former East Berlin to undergo heavy redevelopment.
For many, Berlin represents a city of alternatives due to its association with green politics, constructive internet policies, alternative lifestyle cultures, and openness to peoples of all religions, preferences, and backgrounds. When you are staying in Berlin in your vacation rental, beware the infamous "Berliner Schnauze"! Literally translated as the "Berlin snout", it refers to the locals' particular way of getting their opinions across: by being very 'frank', direct, and often times loud. You can think of it as similar to the directness of locals from New York City. But don't fret, they do not mean to come across as loud or rude, it's just the spirit of Berlin!
Did You Know? About Berlin
Ohio flight pioneer Orville Wright gave a demonstration of his famous Kitty Hawk plane over Tempelhof Field in 1909.
Berlin is an extremely large and flat city, with the city limits of both Frankfurt and Munich fitting comfortably inside its borders!
The German capital is known for its museums. The Museum Island in the center of the city is home to the 2,000 year old Pergamon alter and the Ishtar Gate!
The modern Turkish fast-food item Doner Kebab is said to have been invented by famous Turkish-born German restaurant owner Kadir Nurman in 1970s West Berlin.
The decision to bomb Japan with atomic weapons in WW2 and the planned division of Germany were both made in the scenic lake district between Potsdam and Berlin.
Berlin has two large zoos, one for West Berlin and one previously for East Berlin, both of which are still active and worthy of a visit.
There are many abandoned buildings in Berlin, including bunkers, beer factories, and even an overgrown and defunct dinosaur-themed adventure park in Plänterwald.
What to Do and Where to Go in Berlin
Deciding on where to go and what to experience on your trip to Berlin really depends on where you decide to have your apartment or vacation rental in town. Also, it is important to understand the importantly convoluted history of the German capital as well as its lifestyle aspects. First of all, a visit to Checkpoint Charlie in the district of Kreuzberg is an absolute must. This site was a major military checkpoint and border between the Soviet and American sectors of divided Berlin. A quick visit to their museum is a great idea, which is just across the road from the checkpoint. From Checkpoint Charlie, take the subway up to Friedrichstrasse, the main and traditionally important rail hub of the city. From there, catch another train to Ostbahnhof where you can walk along the infamous East Side Gallery, an important still-standing piece of the Berlin Wall. The East Side Gallery is famous for its special graffiti and featured works of art. However, due to recent skyscraper developments in the area, parts of the wall are being removed, so go see it while you still can!
From there, wander over to the Warschauer Strasse area and witness the center of the young party scene. You are now in the district known as Friedrichshain, which is a popular living borough for young expats especially from the English and Spanish-speaking reigions. Make your way down to Frankfurter Tor and Karl-Marx-Allee, one of the longest streets of the city. It offers perfect examples of East German socialist architecture, complete with wide, seemingly empty streets, and countless living apartments. Why not find a vacation rental or apartment for rent along Karl-Marx-Allee, and experience first-hand the architecture and lifestyles populated by former East Berliners? There are more than 2,500 public parks and gardens in Berlin, with almost a fifth of the entire city covered by trees and similar shrubbery. Due to this reason, one of the main favorite pastimes of native Berliners and foreigners alike is to go picnicking in the park, taking a forest stroll, or going for a swim in one of the countless lakes.
Berlin in Summer: The Perfect Combination
Berlin is a city built essentially on a vast, swampy marshland. This means that the earth underneath it is very sandy, and that there are countless lakes and bodies of water scattered about its environs. Whether you go for a stroll through Grunewald forest or Berlin central park area Tiergarten, or going for an evening stroll around the 'Gardens of the World' themed horticulture park in Marzahn, you can't go wrong with walking excursions in Berlin. Grab a famous German beer or a snack from a Späti (these are like drink and snack kiosks in Berlin) and take a stroll around your "Kiez" (means cultural borough). There are plenty of apartment rentals in Kreuzberg or Berlin-Mitte to cater for your summer fun activities. For more aquatic adventures, go check out the famous waterfall in Kreuzberg's Viktoriapark, a large hilly park in Kreuzberg which contains the actual namesake hill (Kreuzberg means 'Cross Hill' in German). Venture out to Lake Müggelsee for great beach and lake swimming and boating opportunities in eastern Berlin, and likewise enjoy the fantastic beaches and water fun at famous Wannsee Lake in western Berlin (Wannsee was an important American station after WW2). From Wannsee, ride your bicycle or grab the bus to the Glienicke Brücke, which is just on the way from Wannsee to Potsdam. The middle of the Glienicke Brücke was the essential border between American West Berlin and East Germany proper, and is famous because it witnessed lots of spy trading between the Soviet Union and the United States during the height of the cold war. Also, it is painted two different shades of green due to each side having to maintain their own half. Finally, grab a grill and some barbeque fare and head out to Tempelhof Field, the famous former Nazi airport in Kreuzberg which has since been converted to an open air leisure and concert park. Tempelhof Field is historically significant for the relationship between Berlin and the United States, as the famous Berlin Airlift was landed here to deliver much-needed supplies to impoverished West Berliners whose normal trade was halted by surrounding East Germany.
How to Get Around Berlin
Getting around Berlin is a simple as operating one of the thousands of BVG or VBB machines spread throughout the town's subway and train stations. Currently, transportation by train is the best option for both seeing the city and saving a buck. There are four main types of trains in Berlin: the Strassenbahn (road-level trams), the U-Bahn (subway), the S-Bahn (above-ground trains), and the RE trains (long distance regional trains, large red wagons). The U-Bahn and S-Bahn stations are easily found due to their signature U and S logos, which have been the same since before WW2. For longer stays, we recommend getting a Monthly Pass for 78 Euros, which covers all train and bus travel at all times of the day for exactly 1 month's time. For shorter stays, we recommend getting Weekly or Day Passes, from about 28 Euros and 6 Euros respectively, covering the same travel options as the Monthly Pass. There are options for so-called Tourist Passes, but these often more expensive, include ticket pricing for special events and other tourist traps, so we normally do not recommend getting these.
Another great alternative is to rent a bicycle. Most food and drink kiosks and train stations throughout the city have bike-lending services. The ones at the train stations are normally operated by Deutsche Bahn themselves (Deutsche Bahn is the German National Train Service). Prices for renting a bike and lock for one day range from 5 Euros to 20 Euros. As Berlin is by and large the flattest city around, bicycling around to check the sites and go exploring makes a lot of sense. Why not try a biking tour from Berlin to the sunny lake districts of Potsdam, famous for its castles and important German imperial history.