Back for a Day…Cork
Welcome back to our 'Back for a Day' blog series. Last week we were in Vancouver with Spencer where we enjoyed a day of beer, freshly made sandwiches and hockey! This week Joy takes us on a tour of her city of Cork in Ireland…enjoy!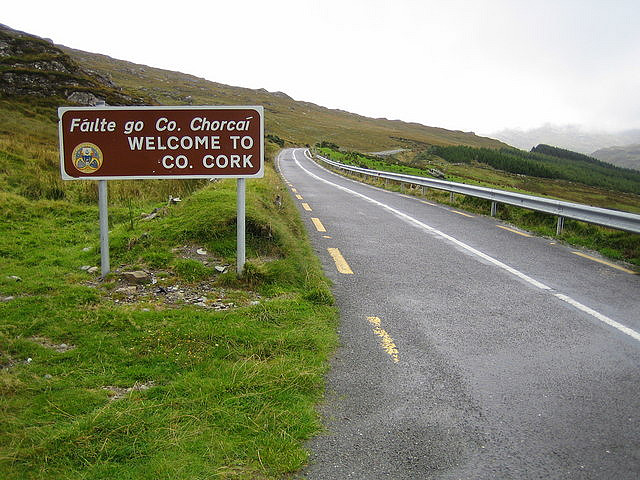 Photo via Robert Stevens

One of my favourite memories of going home to Cork is when I returned at Christmas for the first time since leaving for Berlin. After 8 months without seeing any family or friends, to say I was anxious to get home was an understatement. As there are no direct flights into Cork I had to travel an extra 3 hours from Dublin. I got onto the train struggling with my suitcases, trying not to hit the group of ladies sitting down. After asking what the suitcases were for I explained that I was home for Christmas, which resulted in a lot of clapping, cheering and welcoming from the lovely ladies. I knew I was home.

The people are perhaps what I miss the most about home. And the weather of course. Who wouldn't miss 151 (I reckon it is more) days of rain a year? Us Irish must have been ducks in another life. This will be my last reference to the weather. It won't affect your stay. I promise. Just to show how, I am going to mentally travel back to Cork for a day and tell you the perfect way in which I would spend it.

To make sure I build up my energy for the day I like to head into Brackens Cafe which is located right in the city centre. I usually walk from my home into the centre, and enjoy watching people go about their morning routine. It is a nice downhill stroll which doesn't take too much strain – walking back home is another story! It is better to leave a friendly taxi driver lug you back up those hills! Brackens do an amazing Irish breakfast. I like to take a cake away for later because those freshly baked treats need a good home.

The city has much more to offer than tasty food, but let us continue the day with another food centred location. The English Market is a covered food market in the centre of the city. Situated on the same site since 1788, it attracts thousands of local customers a day. It was even on the itinerary of Queen Elizabeth II who came in 2011 during her state visit. Its fresh produce is snapped up by the city's top restaurants where you can go to try local specialities such as drisheen and spiced beef later on in the day. A highly recommended place for breakfast, lunch or dinner is the Farmgate Cafe and Restaurant which overlooks the market.

Now, onto the sights which I blissfully get to walk past as I jaunt around the city. Cork is full of beautiful buildings but perhaps its most picturesque are the churches. It is nice to pop into the local ones to see their wonderful interior, but it is a special treat to St. Finbarr's Cathedral and St. Anne's Church which are located south and north of the River Lee. St. Finbarr's is a stunning construction which was the first major work of the Victorian architect William Burges. It also holds the largest organ in Ireland! St. Anne's Church in Shandon is a true symbol of the city but don't trust it for the time. Each of its 4 clock faces tell a different time! Climbing its winding steps and ringing its heavy bells is thirsty work.

When in the area I like to pop into Jack Fordes Bar where a bit of banter is sure to be had over a pint of Guinness. I like to pop over to Linehans Sweet Factory too to buy a bag of brusk which is basically a collection of all the broken bits from the hard boiled sweets they make mixed together in a bag. Sounds strange but tastes oh so good. I eat them at home where I can savour every last bite and wash it done with a bottle of Tanora, a tangerine flavoured fizzy drink you can only get in Cork! We are very special down this end of the country!

One of my favourite things to do in the evening is to go to Blarney which is just 5 minutes by car from my home and do the 'Blarney Walk' as we Corkonians like to call it. Of course that builds up a hunger and there is no better place to go to eat in Blarney than Tung Sing which is a wonderful Chinese restaurant.

The curry there is so, so good and is something I crave on a weekly basis. They also have a branch in the middle of the city which is excellent when just can't wait for dinner time to stuff my face with their delicious grub. When I head to Blarney during the daytime I go to Blarney Castle which I never get bored of. I do have to admit though that I haven't kissed the Blarney Stone. The Blarney Stone sounds like something that would be mentioned in Father Ted (remember the Holy Stone of Clonrichert which got upgraded by the Vatican?) but it is actually the legendary Stone of Eloquence which is found at the top of the tower. If local folklore is to be believed, those who kiss the stone will be blessed with the gift of the gab.

Lucky I didn't kiss it because I certainly don't need any help with talking! When I really am looking for a special walkabout I get myself on the train and go to Fota Wildlife Park. Fota is a childhood staple of Cork's kids as nearly every year you are brought there on a school tour. I never get bored of it though and still like to go as often as possible many years on. My favourite animals are the giraffes in case you are wondering!

I want to finish telling you about my day by explaining my night out on the town, but first I need to rewind my day a little as a night out means new clothes which in turn means a shopping trip! Men can skip the next few sentences. So I guess my night out really begins during the day when I hit the mean streets of Cork to do some damage to my wallet. It may be a compact city but everything you need can be found on Patrick Street and Opera Lane. Penneys (Primark to all you non-Irish people reading) is where I always find a bargain! A top tip for shopping in Penneys is to go on a Tuesday because it is when they put out the new stock and do their markdowns! Before I wind up my shopping experience I pop into the Long Valley, a wonderfully Irish bar which make the greatest doorstep sized sandwiches (more food after that massive breakfast earlier!)! Yum! So onto what you really want to know – where are the best watering holes in Cork City? The answer is there are too many so let me rattle off a few of them and what they are best for. Head to The Franciscan Well for tasty home-brewed beer.

It is the last initiation needed to become accepted by the Rebel City.

Reardens is a great place for a spot of dancing (get there early as they queues get looooooog) and leads to Havanna Browns Nightclub for those who want to dance into the wee hours. The Pavillion is a great venue for live music while Suas is the place to be for cocktails. Phew! That is a lot of pints of Guiness! There is one golden rule to having the ultimate night out in Cork. At the end, you must head to the Grand Parade, buy a breast in a bun in Hillbilly's Fried Chicken and eat it sitting on the edge of the fountain. It is the last initiation needed to become accepted by the Rebel City.

Whoever decided there should only be 24 hours in a day made a big mistake! I still haven't told you how I like to go to the seaside town of Youghal and eat a salty bag of chips and a potato pie looking at the sea. Or how I like to take a book to Fitzgerald's Park and lay in the sun whenever it decides to poke its cheeky face out.

I may be tooting my own horn here but Cork is just too damn amazing to fit into one post! Check it out for yourself if you don't believe me!
Where to stay
Joy has assured us that Cork is a great place to visit rain or shine! Take a look at some of Wimdu's beautiful places to stay within the city and amongst the serene, picturesque countryside.
Country Style Holiday Home

This charming holiday home with a country style decor is located in the wonderful town of Middleton which is just a 20-minute train journey into the centre of the city! Check out this beautiful property here!
Private Room in Modern Penthouse

Enjoy spectacular 270-degree views over Cork City when staying in this ultra-modern and centrally located penthouse apartment. It includes a spacious apartment where guests can sit with a cup or Cork's own Barry's Tea! Find more information about this accommodation here!
Thanks to Joy for taking us on her tour of Cork City! Fancy reading more about Ireland? Check out our piece on food in Galway and spend a day back in Dublin with Niall!