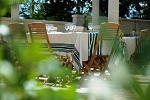 Bordeaux: antique and beautiful, vintage and tranquil, yet also one of France's most forward-thinking cities. This capital city of the Aquitaine region in southwestern France is rife with interesting history and plentiful warmth year-round, thanks to its perfect location near the Atlantic coast. Known as the 'little Paris' of France for its immaculate beauty and wide array well-preserved of baroque architecture, Bordeaux is predominantly famous for its production of new and vintage red wines, the most popular type of which bearing the city's namesake. Culinary delicacies, fine dining, first-rate universities, and great local attitudes are the backbone of this wonderful southern French metropolis.
Apartments and vacation rentals in Bordeaux
Fantastic and lavish apartments or villas in Bordeaux are plentiful with Wimdu's great selection, with any of your Bordeaux accommodation ranging from vintage old apartment suites in the historic city center to spacious and quaint beach houses in Lacanau along the Atlantic Coast. In addition, you can also rent a nice studio apartment for longer stays, or if traveling in pairs, taking advantage of the many bed and breakfasts available in the old city and town outskirts. By choosing an apartment on Wimdu you are guaranteed to save money versus choosing a hotel and will have access to authentic, homely, yet distinctly 'French' accommodation for your vacation to Bordeaux.
Did You Know? About Bordeaux
Aquitaine, the region for which Bordeaux is capital city, was once a possession of the English crown from 1154 until 1453, under English rule for nearly 300 years!
Bordeaux is the largest metropolitan area in France. This is due to the weakness of the ground in the area, resulting in an inability to build the city 'upwards' with skyscrapers.
There are nearly 300,000 acres of vineyard in the Bordeaux wine region and approximately 20,000 wine producers, amounting to a production of nearly 850 million bottles of wine per year.
As Bordeaux was an important center for transatlantic trade in the 16th century, they not only sent wine to the New World colonies, but imported and exported both cane sugar and slave labor from Africa and the Caribbean.
What To Do In Bordeaux
The Bordelais (locals from Bordeaux) are very tolerant, relaxed, and hospitable, thus differentiating themselves from their counterparts in Paris. Bordeaux is the world's major wine producer and plays host to the world's preeminent wine exhibition called Vinexpo. If you enjoy your Bordeaux wine, we highly recommend taking part in one of the daily wine tours on offer by Ophorus, providing English-language tours of all the major wine-producing regions of Bordeaux (including Graves and Médoc), all from the comfort of well-equipped minivans. There are numerous other tour companies which also offer excursions to châteaus, wineries, parks, and other local areas of interest.
The best museums to check out while in Bordeaux are the Musee D'Art Contemporain for modern art and the Musee D'Aquitaine for ancient and Roman-era Bordeaux history. The Musee D'Art Contemporain features constantly changing exhibits and is open Tuesday through Sunday from 11AM to 6PM. Insider tip: the museum is free on the first Sunday of every month! The Musee D'Aquitaine has similar opening hours but with free entry for permanent exhibits, while temporary ones will run you about €5 per person.
The wine isn't the only great vintage part about Bordeaux; the urban architecture is some of the best-preserved and culturally significant in all of France. Buildings throughout the city account for more than 360 state-sanctioned historic monuments, second only to Paris in number. UNESCO has named many of these as world heritage sites and describes Bordeaux as "an outstanding urban and architectural ensemble". Due to its antiquated beauty and historical prominence, the city is often subject to movie shootings and similar big-budget Hollywood productions. Interestingly enough, Bordeaux was one of the first French cities to undergo serious urban development.
Must-sees: Les Quais, Aquitaine Bridge, Water Mirror, Sainte-Catherine Street
After arriving in Bordeaux and settling into your apartment or vacation rental, we suggest going to for a nice walk along Les Quais, the riverside promenade along the Garonne river which twists right through Bordeaux and connects it with the Atlantic Ocean. From Les Quais you can marvel at the countless bridges crossing the Garonne, knowing that this river infrastructure was once of the utmost importance to the transatlantic trade industry. You have to check out the grand and historic Aquitaine Bridge. Another must-see for this area is the Miroir des Quais, commonly referred to as the 'water mirror', located on the Place de la Bourse. After coming from the water mirror, it is nice to wander on to Quinconces Square and enjoy the imperial architecture and relaxing park benches. From here, venture off into the old city and meander down Sainte-Catherine street. No walk through the old city is complete without a stroll down Sainte-Catherine street and into the Pedestrian Center, where you can discover amazing and quaint little restaurants, cafés, and boutique shopping opportunities. There is something for everyone to enjoy in Bordeaux, and especially for those interested in vintage, relaxed, and that distinctly 'French' way of living.
Getting Around Bordeaux
Bordeaux is easily accessible with nearly 60 direct flights to Bordeaux-Merignac departing from the majority of Europe, not to mention Northern Africa. Although Bordeaux is one of the largest sprawling cities in France, most of its attractions and historical sites are located within the city center. It is recommended to take advantage of the great public transportation (Bordeaux is known for its great tram system), as having a car may prove to be a cumbersome experience in Bordeaux's winding, narrow, and traffic-jammed streets. Another great option is to use the bus system in Bordeaux, and with a weekly pass for just €10.60, it's hard to beat the price. Just be sure to avoid peak rush hours on the buses, which usually happen between 8 to 10AM and 4 to 7AM. Alternatively, as Bordeaux is very flat, it's a great idea to rent a bicycle from the city's VCUB bike sharing system and discover the city for yourself on your own romantic adventure in Bordeaux.