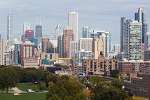 Welcome to Chicago, the third-largest city in the United States and veritable headquarters of the American Midwest. Chicago, also referred to as Chicagoland, The White City, and the Windy City, tends to be known for its deep dish pizza, tradition of jazz music, food and hard industries, and 1920s gangsterism and 'bootlegging' . Chicago is also the birthplace of the modern skyscraper and has over 1,200 complete skyscrapers grazing against its Lake Michigan horizon. The Chicago World's Fair of 1893 put Chicago on the international playing field and dazzled the world with its brilliant architecture and display of traditional American values . Famous Chicagoans include Al Capone, Bill Murray, and Barack Obama. In this day and age, Chicago is also well known for its summer concert series Lollapalooza and it's world-class art museums and collections, many with better collections than even the best Parisian exhibitions. Accommodation in Chicago comes in the form of vacation rentals, apartments for rent, and high-quality bed and breakfast options.
Chicago was once notable for its rampant 'boosterism', which is a promotional tactic used by politicians to wildly promote their city to encourage settlement and thereby inflate the cost of local real estate. These boastful, pompous attitudes in the press earned the city the infamous nickname of 'The Windy City' from newspapers across the Midwest, especially Cincinnati, Cleveland, and Detroit.
Deciding on a Chicago apartment, rental, or bed and breakfast for your Windy City trip
In making plans to visit the Midwest's 'City That Just Works', it's important to consider where you want to stay and how you want to experience the city. If you're just in town for business or a conference, then it's more advisable to find an economical, well-connected apartment rental in Chicago instead of a full-fledged vacation rental or bed and breakfast option. When coming in larger groups, getting a big rental in some of the more lively regions such as Wicker Park or North Side is certainly a better idea. Or why not try out staying in an apartment in North Lincoln, a more laid back and authentic area with fantastic old and 'greystone' architecture. Even an extravagant rooftop apartment in Chicago with a fantastic view of its famous skyline would not be a terrible idea; again, all depending on your trip needs.
What To Do and See: Art Museums, The Skyline, Local Insider Tips
So many visitors to Chicago from across the globe never really venture away from the downtown attractions, such as Grant Park, Michigan Avenue, or the various art museums. For a more local, 'indie' experience, head out to either Wicker Park or Bucktown. Check out one of the many 'hipster' cafés and restaurants, catering to all walks of life, including offering many exclusively vegan and vegetarian options. Chicago is also famous for its record and comic book stores, so make sure to check out some of these while in town!
Whether you are a sports fan, art lover, foodie, music junkie, looking to shop, or all of the above, you will find all kinds of options for anything that tickles your fancy. The world renowned Art Institute of Chicago houses several famous works as well as an incredibly vast collection of art of all styles. Also worth a look is the Adler Planetarium, the Field Museum of Natural History, and the Shedd Aquarium. Admire art without even entering a museum at all by checking out the city's wonderfully diverse architecture. Chicago was home to the world's first skyscrapers and still has some of the tallest buildings. There are numerous Frank Lloyd Wright buildings in the city as well. Take a walking architecture tour and wander past buildings designed by Daniel Burnham, Louis Sullivan, and Mies van der Rohe. Chicago also has lots of beautiful public art installations as well, such as the famous Cloud Gate at Millenium Park, also known as 'The Bean'. We also recommend paying a visit to the famous Wrigley Field, home of Chicago baseball legends the Chicago Cubs.
Chicagoan Cuisine: From Kielbasa to Deep Dish Pizza
Look, Chicago is one of the United States' premier destinations for amazing cuisine. The state of Illinois is the fourth largest when it comes to Mexican immigrant communities, and their cuisine is some of the best in the nation. No trip to Chicago is complete with having those spicy, local, Latin American tacos or tamales! We recommend finding a taco food truck and enjoying some of the more down-to-earth Latino cuisine. Along with the Mexican and Latino communities, there are strong Polish and German traditions in Chicago as well. For traditional Polish 'kielbasa' sausage, drop on by Kurowski's Butcher Shop, a Polish supermarket with the best Polish sausage in town. For the best Polish 'sit-down' restaurant, go to Staropolska along North Milwaukee Avenue in Logan Square. For German fare, try out the Chicago Brauhaus, located in the popular Lincoln Square neighborhood. Or why not just sample the famous Chicago Hot Dog? This one differentiates itself from the rest of the nation's hot dog varieties in its garnish of an entire pickle and liberal use of celery salt.
For traditional Chicago deep dish pizza, the best locale hands-down is Burt's Place in Morton Grove, which is a smaller suburb a bit north of Chicago proper. It's a traditional pizza joint with arguably the city's best slice of deep dish.
Getting Around 'Chi Town'
The best way to get around Chicago is by taking what's locally known as 'The L'. The L is Chicago's subway system and is one of the best in the entire country. Going both above and below ground, the L will get you to any section of the city for a meager $2.25, including dedicated train fare in The Loop, a circular section of the train service providing faster fare between the central downtown areas. Most tourists to Chicago end up staying inside the Loop during their trip, as this vicinity provides enough access to museums, bars, restaurants, and other shopping opportunities.