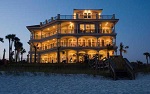 Destin is situated along the Emerald Coast in the Florida Panhandle and is one of the state's, not to mention the nation's, most popular beach vacation destinations. Thousands of Americans from all over the country, and even Canadians, flock to the white, pristine beaches and warm communities of Destin in the summer months. Destin and the Emerald Coast area is famous for the whiteness of its beaches and the distinct emerald green color of the gulf. Destin was relatively unsettled until around 1845, when it was settled by the entrepreneurial Connecticut fisherman Leonard Destin. It experienced quiet popularity until the 1970s, and since the 80s has experienced one of the country's largest "beach booms". Enter Destin: famous Florida home of white beaches, amazing seafood, emerald waters, and quiet, friendly communities.
Temperatures in Destin tend to be in the 70s-80s range in the spring, usually with extremely sunny skies. The summer months see high temperatures, sometimes well into the 100s, also with slight humidity. The lowest temperatures of the year hover around January, where it can plunge into the lower 30s.
Finding vacation or condo rentals in Destin, Florida
Thousands of Americans head to the shores of Destin in the summer, making it an important part of the American cultural consciousness for beach vacations. Finding a rental condo in Destin or a vacation rental such as a villa or entire beach house is a cinch when you browse some of the over 200 available on Wimdu. Accommodation in Destin by Wimdu ranges from shoreline, beachfront properties with fabulous views of the gulf to harbor-facing vacation rentals, usually with swimming pools and countless dining opportunities. All this in the form of condos either for couples or large families, some offering up to 5 rooms.
Did You Know? About Destin
Destin actually only has about 12,000 year-round inhabitants, yet benefits from about 80% of the Emerald Coast region's nearly 5 million visitors and tourists per year.
Many famous people and celebrities are said to inhabit Destin during its warmer months, including author John Grisham and actor Morgan Freeman.
Destin is known as "The World's Luckiest Fishing Village" due to it's ease of access to deep Gulf of Mexico waters. Destin also claims to harbor Florida's largest amount of fishing vehicles.
Destin is not just a town for beach-goers: it is also well known for its high quality golf courses and opportunities for golfing.
What To Do In Destin
If you are heading down to Destin, you are most likely coming to enjoy its immaculate, crystal white beaches, for which the area is primarily known. Besides just the vast beaches, however, there are countless other attractions and places worthy of visit. For example, if you are a history buff and want to brush up on your Emerald Coast fishing and cultural history, then stop by the Destin History & Fishing Museum, located at the end of Stahlman Avenue just before the Destin Bridge to cross to Okaloosa Island in west Destin. Exhibits include fishing rod collections (including one previously owned by Ernest Hemingway), antique boats and fish species displays, as well as exhibits showing what life was like in Destin before the advent of electricity. Opening hours are from Tuesday through Saturday 10AM to 4PM, Sundays at 1PM to 5PM. Adults cost $5 while children under 6 get in for free!
The local golf clubs will provide golfing enthusiasts with a fine day out on the course, with vibrant, rolling greens, shimmering lakes, and shade-giving trees. Some of the top courses available for golfing include Fort Walton Beach Golf Club, the Regatta Bay Golf & Country Club, and the Golf Garden of Destin. Opportunities for Deep sea fishing can be arranged through local outfits Adventure Charters and Pelican Adventures. In addition, Pleasure Island Waterpark offers its visitors a variety of fun-filled watersports and activities, from pontoon and jet boats to para-sailing and go-karts.
In the evening, after you come back to your Destin apartment or condo, head out to Destin harbor by foot for a lovely stroll down the newly completed Destin Harbor Boardwalk. The Boardwalk, at nearly one mile long, offers fantastic restaurant opportunities as well as fun, family-oriented water attractions and little spots for fishing. Don't forget your fishing rods!
Cuisine of Destin: Seafood, seafood, seafood!
Destin has a great selection of restaurants and bars to cater to your dining needs after a long day at the beach or out fishing on the gulf. As Destin is known as "The World's Luckiest Fishing Village", you have no excuse for not trying out some of the amazing varieties of fish and seafood! For those who are particularly hungry and possibly even in the colder months of the year, McGuires Irish Pub and Brewery is a great option for heavier fare such as "steak and ale" and general burgers. Similarly, there is Destin Chops for the perfect, premium slice of steak. That being said, the real food one should be eating in Destin revolves around the sea! Go to the Boathouse Oyster Bar or Stinky's Fish Camp for great seafood, but be prepared to wait in line for your food! According to some insider tips, the best fish sandwhich in all of Destin is to be had at the Hog's Breath Saloon along Highway 98. For family-friendly and generously-sized portions, your average restaurants such as Fudpucker's are always available and ready to cater to your needs.
Getting To Destin and How To Get Around
The closest airport to Destin is Okaloosa Regional Airport. From here, Destin is best accessed by car, which you can rent at the airport or else avail of a courtesy shuttle service provided to other car rentals not at the airport. Once in Destin, a limited but affordable public transport is offered during the tourist season. Other than that there is a coastal shuttle service or the Sexton taxi service with which to get around town.
It is an important fact to know that the large volume of yearly tourists normally enter Destin from the north with their own private vehicles. The large majority of American families will either rent a van or SUV or use their own car to go on a road trip down to the Emerald Coast area, a trip often lasting a couple days, for example, if coming from the Midwest.