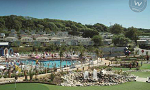 Dorset is one of England's most beautiful counties. It is quintessentially English and contains all the best qualities of England including lush countryside, cosy English pubs, pretty cottages, quaint villages and hospitable locals – it's the perfect place for a holiday! Dorset is located in south west England on the coast by the English Channel. The biggest settlements are that of Poole and Bournemouth which are both located on the sea. Perhaps Dorset's best attribute is the many varied landscapes that can be found in the country – from pretty chalk cliffs to low lying valleys. Dorset is mostly a rural county with many small villages housing the population. There's so much to see and do in Dorset including walking in the countryside, watersports off the coast and fine dining in Bournemouth – book your holiday home today!
Where to stay in Dorset
Dorset is a popular holiday destination and tourists come from not just all over Britain but from overseas too, and the huge range of accommodation available reflects this. Book a charming thatched cottage in a Dorset village, or a holiday home by the sea… or an apartment in one of the beautiful towns in the area. Booking through Wimdu means that you can easily find good quality bed and breakfast and self-catering accommodation, and experience what it's like to wake up in a real Dorset home and get a taste of life in the county!
Fun Facts about Dorset
Famous author Thomas Hardy was born in Dorset
The first mention of Dorset was in the year 841, it's one of England's oldest counties!
Dorset is one of the most sparsely populated counties of Britain
Poole Harbour is the largest natural harbour in Britain
Where to Go and What to See in Dorset
Dorset has much to offer tourists. A good place to base yourself is the quaint town of Shaftesbury, which has a great range of bed and breakfast accommodation, and cute cottages available - as well as some of the best cream teas in Dorset! Dorset real ale is enjoyed by people throughout Britain and a trip to Dorset is a great opportunity to try some of the local beer! Corfe Castle is also worth visiting – it's the ruins of a Norman Castle and is looked after by the National Trust Foundation. The inspiring coast of Dorset, known as the Jurassic Coast, is a UNESCO world heritage site and a walk along this impressive stretch of the English coastline is certainly recommended! Poole Harbour is the world's second biggest harbour and it's one of the best places in Europe for watersports such as windsurfing, kitesurfing and paddle boarding! Dorset likes to celebrate tradition, especially tradition related to forms of transport! Take a ride on the Swanage Steam Railway which operates daily from April to October. The train features authentic heritage carriages and runs between Corfe Castle to the seaside resort of Swanage. The Great Dorset Steam Fair runs through August and September and hosts over 600 vintage steam engines for over 200,000 people to see. Bovington Tank Museum is also worth investigating if you have yet to get your fix of vintage transportation!
Fun for Children
There are some really fun children's attractions in Dorset. The Abbotsbury Swannery is one of the highlights and it is here that you can walk through the heart of a colony of nesting mute swans. The Swannery was initially set up by monks over 1000 years ago and there are still remnants of St Peter's monastery and St Nicolas' church in the area. Boat trips are available to Brownsea Island off the coast of Dorset and it's an opportunity to have a look at some of the exciting wild animals living in the area. Brownsea is home to the BBC's Autumnwatch program and there's a chance to see the red squirrel, a particularly rare animal, on the island!
Getting Around
There is only one major airport in Dorset and that is Bournemouth International Airport. The airport operates flights to several European cities. Bristol Airport is located 50 miles to the north of Dorset operates flights to many European and international destinations. Getting to Dorset by train is extremely and Bournemouth, Weymouth, Dorchester and Poole are all directly connected with London – the journey time is approximately 2 hours. Bristol and Bath are also directly connected with Dorset and the journey times is usually about 1 hour. You can also reach Dorset by ferry from France, Jersey and Guernsey and there are ferry terminals in Poole, Bournemouth and Weymouth. Travelling by car is perhaps the best way to get around and discover Dorset. Many of the roads are winding and small and public transport doesn't usually operate in such areas, so if you rent a holiday home in a really rural area, make sure it is on a bus route if you want to explore and you don't have a car! Although you can rely on public transport to get from town to town, you'd be missing a great deal of Dorset's undiscovered beauty if you were to do so. Hire a car in Bournemouth or Poole and go exploring in the beautiful English countryside!