Villas, Apartments, and Vacation Rentals in Florence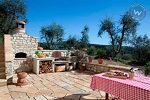 Beautiful and cultural king Florence is separated by the Arno River. On one side of the river sits most of the city's historic center. On the other side is the Oltrarno area, with historic churches and the Palazzo Pitti as well as quieter streets filled with artisans' workshops and locals going about their daily life. Florence is the home of the Renaissance; it was here in the very beginning of the 15th century that the Renaissance began. Therefore, its greatest treasures are the paintings, sculptures, and architecture that reflect the innovations of this important time period.
Accommodation In and Around Florence, including Tuscan villas
The historic center of Florence is a fairly small area. Finding a classic apartment rental or vacation villa within the city center is really the best option since it allows you to be within walking distance of everything. However, some of the piazze (city squares) in the city center and streets can be very noisy at night, so take this into consideration when searching for accommodation in Florence. We recommend not finding a room that is at ground-level and also one that is not facing the street; most apartments and vacation rentals here will have access to a central courtyard, so rooms that open up tot he center of the building tend to be much quieter than those facing the street. If city noise and hustle is an issue, why not try out one of the many fantastic villas in the countryside? This way, you can really get to experience what life is like living in a typically Tuscan villa, and all you have to do to get your art and culture fix is drive your car or catch the bus to Florence.
Staying in the historic Oltrarno area is a great way to get a taste of the more authentic Florentine way of life, but don't stay too far away from the river, otherwise you risk having to take long walks every time you want to head into the city center. Instead, try perhaps between Ponte alle Grazie and Ponte Santa Trinita. Again, we cannot stress the importance of experiencing Florence and Italy from the local point of view, and this is best done by staying in a vacatoin rental or villa in Florence.
Did You Know? Some Florentine Facts:
Between the approx. years 1300 to 1500, Florence was the most important cultural, political, and economic epicenter in the entirety of Europe.
Julius Caesar founded Florence as a retirement place for his soldiers in 59BC!
The Italian name for Florence is Firenze.
Florence became the first city in Europe to have paved streets in 1339!
Tripe, a dish made from the stomach lining of a cow, is a specialty in Florence!
What To Do: Florentine Art, Religion, and Museums
There is so much to do in Florence that you can easily spend a week there. There are several "must-visit" attractions. Get the Firenze Card to avoid lines and have admission covered ahead of time for a more convenient, worry-free experience. First, the most famous museums in Florence, the Uffizi andAccademia, should be visited to see some of the finest paintings and sculpture of the Renaissance, including the original David by Michelangelo. The galleries at the Palazzo Pitti have excellent displays of Renaissance and Baroque painting, and the Bargello Museum is worth visiting for its incredible collection of sculpture. If you want to see how locals spend time at the coolest museum in Florence, check out the events at the Palazzo Strozzi and join in one evening. Experience the relationship between art and religion at San Marco, where delicate frescoes of the Early Renaissance decorate monks' cells.
Florence is known for its beautiful and art-filled churches. Santa Croce houses the graves of Renaissance artists and thinkers, including Michelangelo and Galileo. Climb the dome of the Duomo to learn about the innovations of Renaissance architecture; alternatively, climb the bell tower (campanile), which usually has shorter lines and gives you a close-up view of the dome. Don't miss the Medieval mosaics inside the Baptistery, which sits in front of the Duomo.
Where to Go Shopping
Florence is a great place for shopping! You will find all kinds of beautiful shops on the city streets. Via Tornabuoni is the place for browsing fashion designer shops. A market in Piazza Santo Spirito (on the Oltrarno side of the river) is held daily except Sundays and sells produce, ceramics, jewelry, and other items. A nice place to buy leather, which is one of Florence's specialty items, is the Santa Croce Leather Workshop in the cloister of Santa Croce. Be careful if buying leather from outdoor vendors—much of it is imported. For a wonderful shopping experience, stop in the Officina Profumo Farmaceutica di Santa Maria Novella on Via della Scala, 16. Try walking from the Ponte Vecchio to the Palazzo Pitti for small shops and window-shopping. Look for traditional Florentine paper at Il Papiro, then veer off onto some side streets in the Oltrarno and peek into artisan workshops.
Restaurants and Cafés
It's hard to have a bad meal in Florence; after all, Tuscany is known for its excellent food and fresh, local ingredients. A favorite restaurant in Florence is La Cucina del Garga at Via San Zanobi, 33. The menu includes reasonably-priced, delicious salads, pastas, and main courses in a fun atmosphere; ask to sit in the painted room. Right in central Florence near the Palazzo Vecchio is Trattoria Carrozze on Via Santissimi Apostoli, 66, which serves traditional Tuscan food in a cozy setting. Piazza della Repubblica is home to some of Florence's finest historic cafes. Cafe Gilli and Café Paszkowski are beautiful and opulent, and their coffee and pastries are fantastic; go indoors for lower prices. Nearby Venchi at Piazza del Mercato Nuovo, 6 is a great place for buying candy and chocolate. Gelato is another must in Florence. There are many good gelaterie in Florence, but one favorite is Perche No! near the Palazzo Vecchio at Via dei Tavolini 19R.
Transportation and Getting Around Florence
Florence is served by a small international airport, Peretola, which is just about 20 minutes outside of town by taxi. You can easily get a taxi from the airport to central Florence for about 20 euros. Pisa International Airport is the main airport for Tuscany. The train ride is one hour or less from Florence and costs about 8 Euros. This train from the Pisa airport takes visitors directly to Santa Maria Novella train station in central Florence. In addition, Florence is also accessible from the Rome airport; fast Eurostar trains take just over 90 minutes, but reservations are needed. Slower trains take 2 hours or more.
Florence is a small city, and all the major sights are within walking distance. Be aware of the city's uneven cobblestone streets and the fact that much of the center is like an outdoor museum, which means you'll be doing lots of walking, so wear comfortable shoes as much as possible. Many of the center's streets are for pedestrians only, making for a pleasant walking experience.Besides walking, you can take the city bus or taxi to get around. City buses can also be used to visit nearby Fiesole for a worthwhile half-day trip. Buses and trains can be used to reach Tuscan hilltowns such as Siena and San Gimignano for day-trips or overnight getaways.