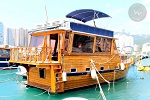 Hong Kong, known as 'Asia's Global City' and on paper as 'The Hong Kong Special Administrative Region of the People's Republic of China', is a vibrant and exotic metropolis on the southern coast of the China. This is a city famous for its gorgeous skyline and harbor as well as its rich cultural history. There are endless opportunities to explore the fascinating blend of Chinese and Western culture in Hong Kong. You will find fresh Cantonese foods served by street vendors, exuberant and exciting holiday festivals, and ancient Buddhist and Taoist temples. Hong Kong was a British colony until 1997 and is often described as an area where "East meets West", referring to its fusion of Chinese and British cultures. In fact, Hong Kong was a British territory for nearly 160 years! Hong Kong also has its own "Times Square" and one of the most popular tourist attractions, the Avenue of Stars, is Hong Kong's own version of the Hollywood Walk of Fame and pays tribute to the huge film industry here. If you want get a spectacular view of Hong Kong Island, you should definitely visit The Peak, the highest point on Hong Kong Island. The Peak also has a fascinating gallery where you can witness Hong Kong's huge transformation over the years. Another must-see in Hong Kong is the Temple Street Night Market where you will get a gargantuan sampling of Chinese culture. Here you can browse through trinkets, sample local cuisine, and see live cultural performances. So keep your options open, because Hong Kong offers a host of activities from festivals to hiking, theater plays to temple excursions. This vibrant, truly international city has to first be seen to really be believed.
'Hong Kongcrete': City Apartments, Rentals, and Alternative Accommodation in Hong Kong
With so much to see and do during your holiday or vacation in Hong Kong, planning your trip can seem like a daunting task. How do you find the best housing and vacation rental options for your stay in Hong Kong? Going to Wimdu's selection of vacation rentals and Hong Kong apartments for rent will help simplify your travel plans and enhance your overall trip experience. If you are traveling in larger groups, we recommend finding a roomy vacation rental, but if you are a pair or traveling on your own, why not try out one of the smaller studio apartments for rent. We always recommend trying to stay near one of the well-connected subway stations, as staying outside the city or on one of the islands will result in not as much nightlife or cultural activity. As Hong Kong is one of the world's premier port cities, why not try to soak in the ocean-faring culture by renting a houseboat or space on a yacht for an adventurous, quality vacation experience? By renting housing in Hong Kong, your Wimdu hosts will able to give you the best city and local tips to really tailor your trip and help you avoid tourist traps, leaving no informational stone unturned during your visit to Hong Kong.
Did You Know? About Hong Kong
Hong Kong is Cantonese for 'fragrant harbor'
Hong Kong is one of the world's most densly-populated cities and has the world's largest amount of skyscrapers.
The flag of Hong Kong, since reunification with mainland China, shows the heads of five white Chinese dolphins organized in a star pattern.
Hong Kong's harbor is the biggest and busiest sea port in the world.
The city has a higher ratio of Rolls Royces to people than anywhere else in the world.
Remember that unlike in mainland China, cars in Hong Kong drive on the left.
The average IQ in Honk Kong is 107, making it one of the world's smartest cities on average.
Where to Eat, Drink, and Shop in Hong Kong
Shopping is a major pastime for locals and visitors in major Asian cities, none more so than Hong Kong. Quirky boutiques stand side by side with large department stores, and whether you are haggling for souvenirs in Temple Street Night Market or if you are scouring the rails of the designer outlets, there is always a mode of shopping to suit your vacation wants and needs. Check out the Sun, Moon and Star streets in Wan Chai, this interesting and lively neighborhood offering the best boutiques and trinket shops in the city. Make sure you haggle with locals to get some great deals!

It is said in Hong Kong that for ten years you could eat out three times a day and never eat at the same restaurant twice. And with over 11,000 restaurants it's not hard to see why. Head to the district Mongkok and try some of the best dim sum (steamed pork buns) in the world at Tim Ho Wan. Costing just under $1.50, it is the cheapest Michelin starred food in the world. For a true Hong Kong experience, eat out on a floating restraint in the city's main harbor. After trying several dishes, attempt to make authentic food yourself. Source the products from the best night markets and take it back to your Hong Kong apartment rental or vacation housing and try it out yourself. This is just one of the countless advantages when you rent an apartment in Hong Kong or find similar alternative housing.
Nightlife for Hong Kongers and Visitors Alike
Hong Kong is truly a city that never sleeps. Many Hong Kongers have a work-hard-play-hard attitude, and this is reflected in the diverse nature of clubs and nightlife available throughout the city. Those who look to rub shoulders with the rich and famous should head to the Ozone Bar at the top of the Ritz-Carlton, the world's tallest hotel. The bar offers stunning views of the Victoria Harbor and the city's trademark skyscrapers, all whilst sipping cocktails and enjoying delicious Asian tapas. If you are hoping for a more down-to-earth night, head over to the Lan Kwai Fong district on Hong Kong Island for the most popular bars and clubs in Hong Kong.
Getting Around the Metropolis
The city is well-served by Hong Kong International Airport. Located to the west of Kowloon Island, take the Airport Express train to and from the city center. For internal travel, take an Octopus Card, this makes travel quicker and cheaper. The best attractions are all centrally located and well-connected by bus and subway services. The subway in particular is amongst the most efficient services in the world. The really perfect way to see the city, however, is by taking a ferry ride from central Hong Kong to the island of Kowloon, from which you can see some of the city's most renowned landmarks and skyscrapers from a unique, water-borne perspective.