Top deals for house rentals in Jacksonville
Find best vacation rental deals in Jacksonville and save up to 71%
Pet-friendly rentals in Jacksonville
Explore best dog-friendly accommodation offers and enjoy vacation with your pet
Accommodation with Internet in Jacksonville
Choose your ideal rental with Internet and WiFi in Jacksonville
Vacation rentals with pool in Jacksonville
Discover best cabin and house rentals with pool in Jacksonville
Best vacation rental offers in Jacksonville
Price and Availability Index in Jacksonville
Click on any bar to see price and availability information
Vacation Rental Price Information in Jacksonville
By constantly analyzing our data, we created a graph to show you the fluctuation of prices in Jacksonville. Booking a vacation rental is most expensive in May. In the period 5/25 - 6/1, you will need to pay $394 on average. However, as presented on the graph, vacation rental prices in Jacksonville are at their lowest in November and amount to $226 per night on average.
Rental availability information in Jacksonville
The above graph shows you how many vacation rentals are available in Jacksonville in different months. The busiest time of year in Jacksonville is May. You'll find the most vacation rentals available in December (12/30 - 1/6).
Jacksonville house rental: not only sunbathing in Florida
Jacksonville is located in the northern part of the Sunshine State and is bordered by the Atlantic Ocean. It is also bisected by the St. John River and is the largest city (in terms of area) in the contiguous United States. The city also has many green spaces, although the business districts are much more numerous and extensive. Nevertheless, Jacksonville is an extremely famous tourist city in Florida, in addition to being an indisputable communication crossroads and a city open to the world.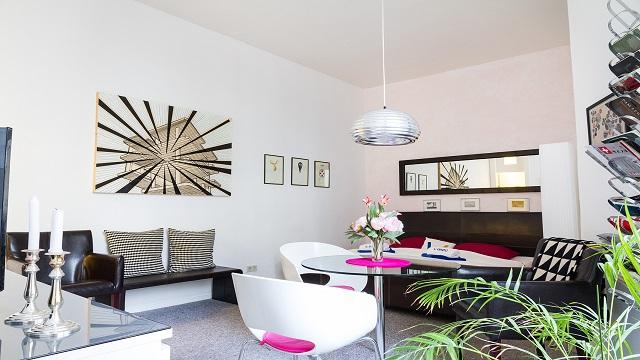 Jacksonville house rental: cultural and historical discoveries at every step

Jacksonville is a military base of great importance, due to the location of a Navy base. During a stay in house rental Jacksonville, you'll manage to quench your cultural thirst by visiting one of the city's many theaters. Music lovers will be happy to know that the rock band Limp Bizkit hails from Jacksonville, and they'll be able to attend music festivals galore during their vacation. The Museum of Science and Natural History is sure to please the whole family. For the ultimate in fun, we recommend a trip down the St. John's River by its docks to see the 7 bridges that span the river with their modern yet classic architecture.
And we love our apartments
Other Popular Vacation Destinations
Destinations worth visiting near Jacksonville
Interesting destinations to consider for your next trip