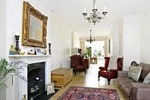 When people come to England, one of the places that is high on their list is to visit its capital city, London, as is visiting the sights that they have only even seen on TV such as Buckingham Palace, Big Ben, St Paul's Cathedral, and the London Eye. However, there is so much more to London than meets the eye. Since the 19th century, the term 'London' has referred to the City of London (the small, original city) and the neighbouring settlements it absorbed as it grew and developed, which are referred to collectively as Greater London. So, London is effectively comprised of a number of towns and villages which, in total, has a population of over 8 million.
Did You Know? About London
The London Underground is the oldest underground railway network in the world, with more than half of the whole network actually running above the ground!
The oldest church of London was built in 675 AD, All Hallows by the Tower, the concrete foundation of which dates back to the Roman period around 200 AD.
The GDP of London is by far larger than that of many other European nations, including Switzerland, Sweden, and Belgium.
London has the largest amount of higher education institutions in Europe, amounting to over 43 universities.
Not only is London the largest city in Europe, but it is the greenest city of its size on the planet with over 40% of Greater London covered in beautiful parks and other foliage.
Where You Should Stay: Finding Apartments, Vacation Rentals, & Accommodation in London
With the City of London and over 30 boroughs for finding a vacation rental to choose from, how do you decide where to stay when you come to London? It can be difficult to work out where to stay, but just remember that it is relatively easy to navigate and get around London. That means you can stay pretty much anywhere in London and have access to all that this vibrant city has to offer; for instance, on Wimdu you have access to over 500 apartments or rooms, and even to rentable cabins and boats! You could find accommodation in the ancient City of London, in London's Theatreland, south of the river in Greenwich, where you will find the Royal Observatory, which is the home of Greenwich Mean Time (GMT) and the Prime Meridian of the world and countless other locations. London holiday homes and villas, especially nice and spacious ones on the outskirts of town, are extremely easy to come by and will only enhance your visit to London and give you that real "like a local" experience.
Must-Dos for London
You are spoilt for choice when it comes to shopping as there are an abundance of markets such as Borough Market, retail districts such as Mayfair, and streets such as Carnaby Street which tend to have their own specialities whether you are after luxury goods, handmade items, a big shopping centre, vintage clothes. There are approximately 40 venues in London's Theatreland, the West End but there are many more around London whether you are interested in musicals, plays, or dance. You can see old favourites likeLes Miserables or newer ones like Charlie and the Chocolate Factory.Museums and art galleriesIf you're looking museums and art galleries then London is the place with over 240 museums, such as the National History Museum, and an estimated 1500 well and lesser known art galleries, which include National Portrait Gallery Activities. There are so many things you can do whatever the weather. You could take one of the many themed, walking, cycling, or bus tours around London; enjoy the peace and tranquillity of nature at the London Wetland Centre, which is 104-acre wildlife park; scale Monument, which is the tallest freestanding stone column in the world; or stroll along the Thames Path. Parks and Open SpacesWhen you think of London, you probably don't think of parks and open spaces but there are plenty of them. In fact, there are eight Royal parks such as St James's Park, many garden squares (some of which are open to the public like Tavistock Square, council-owned parks, for example Victoria Park, and over 100 other open spaces, one of which is Clapham Common.
Restaurants, Cafés, Pubs, and Bars
Whatever beverage you may fancy, whether it's having a pint in a pub steeped in history or one that specialises in certain beers; a glass of bubbly at one of the champagne bars; afternoon tea at one of the many hotels and tea rooms across London; or, if coffee is more your 'thing', the increasing number of great coffee shops around the capital.When it comes to food, there is something for everyone. However, don't forget some of the traditional English dishes such as Fish and Chips from a 'chippie' (Fish and Chip Shop); relax and enjoy a Sunday Roast; eat Pie and Mash at M Manze, the oldest pie shop in London; try a rather filling full English breakfast; or bangers and mash (sausages and mashed potato).
Nights Out and About
London has a vibrant club scene whether you're looking for a superclub like the Ministry of Sound or something a little more intimate. If you prefer live music, you will find gigs all around London to satisfy all musical tastes. If you fancy a laugh, what about a Comedy Club? If you feel like it, you could even go to one that is held on a boat on The Thames!
Transport: Getting to and from London
You can get to London from national and international destinations in a number of different ways. There are five airports that are within easy reach of central London, either by train, coach, or minibus. Other than that, there are coach companies that provide access to and from London. The main companies that also have international services are National Express and Megabus, which terminate at Victoria. In addition, Eurostar is the train link from mainland Europe to the UK and terminates at St. Pancras International Rail Station.
Getting Around London
You can get around London in a variety of ways. The Tube (The London Underground) is London's metro system, which is divided into zones 1-9. It has twelve lines, which includes the DLR (Docklands Light Railway), London's only driverless train. You could catch a London bus, which run services throughout the night. If you happen to be in South London, you could use the tram service. As an alternative, you could ride on Emirates Air Line across the Thames, which is London's cable car; use a Boris bike as part of the London Cycle Hire Scheme; or cruise down the Thames on a river bus or book yourself onto one of the many river tours. An Oyster Card, which is an electronic smartcard ticket, is the cheapest and quickest way to pay for single journeys and you can load bus passes and travelcards onto it. You can buy them in advance of your trip to London or on arrival. The choice is yours!