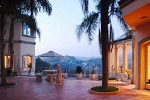 Los Angeles can perhaps be considered to be one of the most famous cities in the world. Renowned and revered for its celebrity culture, financial wealth, and dominance of the global film industry, there are few people who have never heard of Los Angeles. For vacation-goers looking for Los Angeles apartments for rent, you will find a great selection to choose from. Vacation rentals in L.A. range vastly in price, meaning that there is always bound to be something to cater to your budget.
Finding a vacation rental, temporary condo, or Los Angeles apartment
There really are countless options for long or short stays in Los Angeles, ranging from accommodation in some of the world's most expensive hotels to highly economic and often-times luxurious private apartments which you can find on Wimdu. Deciding on staying in one of Los Angeles's numerous city districts is as simple as understanding your transportation options. For example, in the city with the nation's most infamous car culture, having your own car to get around will allow you to also find accommodation or apartments in the neighboring, equally beautiful areas such as Pasadena to the northeast or Santa Monica just to the west of downtown L.A. While it is great to have a car for getting around, beware that Los Angeles's traffic undoubtedly has one of the worst reputations in the world! At any rate, visiting Los Angeles and renting a vacation condo or cheap apartment for a short stay provides you with a markedly higher value to quality ratio than your average hotel or motel would, and not to mention how renting a Los Angeles apartment will surely conjure up worlds of adventure and introduces you to new, interesting people and possibilities for urban or nature exploration.
Did You Know? About Los Angeles
Did you know that the Port of Los Angeles is the busiest in the nation and one of the busiest in the world? The total trade value is estimated to be near $390 billion as of 2011.
The Hollywood sign is a symbol known throughout the globe. Less known is the fact that from 1923 until 1949 the sign read "Hollywoodland". The sign was originally used as an advertisement for a housing development within the area.
By 1923, Los Angeles produced 1/4 of the world's oil supply and still stradles one of the largest oil fields in the nation.
The city has the largest number of female-owned businesses within its limits than any other in the USA.
Los Angeles has the most museums per-capita than any other city on the planet.
Los Angeles ranks number one in terms of energy efficient buildings. Despite the smog and pollution associated and experienced within the city, the county officials have increasingly made efforts towards creating a healthier and more sustainable atmosphere for residents.
Top Things To Do in Los Angeles
See a show at the Hollywood Improv! This charming comedy club hosts a variety of acts, and frequently headlines household names. The ticket prices vary dependent on the act, though open-mic nights are free and the food is impeccable. Pay a visit to Universal Studios. Though this can expensive depending on what you see, it will certainly make for a worthwhile visit. Here you will have the opportunity for an exciting studio tour, and a chance to see some behind-the-scenes action in the famous backlot of the world's largest movie studio. The Universal Studios Theme Park also allows you to become part of your favourite shows, with the themed rides that take you into a whole new dimension. See the famous Hollywood sign. This well-known landmark can be seen for miles around, but the best views are found on Beachwood Canyon Drive. It's impossible to walk to the sign, but there's nothing to stop you having a picture taken in front of this famous Los Angeles landmark. Stroll down Hollywood Boulevard and see the imprints in the sidewalk surrounding Grauman's Chinese Theater. The Hollywood Walk of Fame is a unique spectacle, and features more than 2,500 stars.
Head over to the Getty Museum. One of the wealthiest art trusts in the world, the Getty Museum boasts an extravagant range of priceless masterpieces, as well as some intriguing architecture and breathtaking gardens. Located within Simi Valley, the Reagan Library offers a wealth of historical artefacts from the 1980s, and traces Reagan's journey from childhood to presidency. The museum also contains the Air Force One jet that was used by the former president, as well as several police escort vehicles used during his tenure. In the memorial gardens, visitors will even find a segment of the Berlin wall. Whatever your political persuasion, the Reagan Library offers a unique perspective of a turbulent period of international history.
While staying in Los Angeles apartments, you should pay a visit to Ventura Boulevard. This shabby looking area hosts a fantastic selection of Japanese restaurants, and arguably produces some of the best sushi obtainable outside of Japan. Prices tend to be fairly competitive, though you shouldn't expect luxury interior design within many of these restaurants. Another fantastic restaurant worthy of a visit is Emporium Thai Cuisine, offering some of the nation's top authentic Southern Thai food from a family-owned operation located in Westwood (near UCLA campus).
Settlement and the Mexican War of Independence
In spite of the many characteristics that have brought on its fame and fortune over the past century, more fascinating is the turbulent political history, which should be regarded is its most remarkable aspect. Originally known as 'El Pueblo de Nuestra Señora la Reina de los Ángeles del Río de Porciúncula', it was founded in 1781 by the Spanish 'Felipe de Neve'. At this time the city was little more than a village, and according to official records it had a population of 44 citizens.
Following the Mexican War of Independence, the city became a territory of Mexico in 1821. However, as the Mexican-American War ensued, the city was lost and California was purchased by the United States as part of the Treaty of Guadalupe Hidalgo.
Getting Around Los Angeles
Los Angeles International Airport (LAX) is the third largest and sixth busiest airport in the world, serving around 64 million passengers in 2012 alone. The size of the airport can occasionally be problematic, though a free shuttle service connects all the terminals to the lower level roadway. Transport to and from the airport is relatively easy, and rental cars are readily obtainable. Be sure to plan ahead, so that you have a stress free journey to your Los Angeles apartment. As mentioned before, beware the sometimes crazy road traffic on Los Angeles's many highway arteries. However, having a car and being able to drive across this large world city from your vacation rental in Los Angeles is an amenity definitely worth consideration, all depending on where you decide to stay.