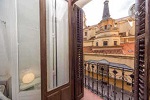 Welcome to Madrid, the pulsating, sunny capital city of Spain and the Iberian Peninsula. This is the land of siestas and bullfighting, red wine and fine, rustic dining. Madrid is the authority for the Spanish cultural world, and its offices are responsible for maintaining the Spanish lexical culture. The state-sanctioned dialect of Spanish comes from here and is known to the world as "castellano". The infamous windmills of Don Quixote are located not to far from Madrid, and this is something that comes to mind when we try to visualize Madrileño culture. Bombarded by mixtures of Iberian cultures and religions, including centuries of invasion by both Christian and Muslim armies, Madrid is essentially the melting pot of the region.
Sunny Madrid: How To Find an Apartment in Madrid
When coming to Madrid, it's important to decide on whether to stay in a rental apartment or a villa. If you are coming in larger groups, for example for a large celebration or party outing, we recommend staying in a typical Madrid villa in the inner-city area, which tend to be larger and closer to the 'action'. Countless other types of vacation rental are to be found in Wimdu's wide selection of Madrid accommodation options. How about staying outside of town, close to one of the quieter park areas, in one of the first-rate bed and breakfasts in Madrid? Wimdu hosts will be able to give you pointers and insider tips on your exciting trip to Madrid no matter the circumstances or your reason for staying. Even if you are just coming to Madrid for a business trip or a single getaway, staying in a reasonable, clean, and professional apartment rental is no problem at all. With Wimdu, you will always have a place to return to for your siesta after a long day of exploring Madrid and gorging on tapas!
Did You Know? Interesting Facts About the Spanish Capital
Madrid is the highest capital city of Europe, situated on an elevated plateau about 650 meters above sea level and 300 kilometers away from the ocean.
The founding of the city dates to the 9th century, where communities began surrounding a fortress constructed on the river Menzanares by Muslim emir Muhammad I of Córdoba.
Madrid is the third largest city in Europe and witnesses the most cloud-free sunny weather in Europe.
Madrileño (citizens of Madrid) are often referred to as "Gatos" (cats) due to their Arabic forefathers climbing over the city walls with cat-like agility in one of the hundreds of invasions of Madrid.
The beautiful Plaza Mayor was once used for trials by the Spanish Inquisition, public hangings, and even bullfighting!
Getting From Here to There in Madrid
Madrid's major airport is known as Madrid Barajas International Airport, with many direct flights from other major European capitals, as well as from cities in the Americas and Africa. Thankfully, the subway system in Madrid is connected directly with the airport, so this means you can easily get to your Madrid vacation rental or apartment with just a few simple connecting trains. Ticket machines on all train platforms throughout the city are in both Spanish and English. The subway usually costs around €1.50 per trip, and you pay €0.10 for every stop after the first 5 stops until you max out at a whopping €2.00! This puts it up there with Europe's most extensive and cheapest subway systems.
Transportation by personal automobile or vehicle is not the best idea while in Madrid due to the terrible inner-city traffic. Therefore, we recommend that you take good advantage of the bus and subway system to get from your A to B during your stay. Also, renting a bike and taking for a spin around Madrid may seem daunting at first, but thanks to the new bike paths they are constructing all over town, it's becoming a more and more doable idea. Walking is also very easy in Madrid and gives you a better picture of how the city is set up.
Los Madrileños: What To Do, How To Experience Madrid, and Tapas!
A trip to Spain would not be complete without visiting one of the famous bull rings. Madrid was long the center of the Spanish bullfighting universe, and whatever your feelings on the subject, it partly symbolizes the country's culture and history. To this end, go to Las Ventas Bull Ring and channel the vivid excitement felt by so many crowds of Madrileños over the centuries. The Puerta del Sol is the square in the center of the city, and all the street numbers of Madrid start here going outwards. It is one of the city's great public transportation hubs, and is also where you can go to view the countdown and celebrations for New Years Eve. However, the true main square of Madrid is the Plaza Mayor, bustling and lined with shops and cafés. Witness the famous Statue of Philipp III in the center of the square!
On a quiet Sunday morning, take a nice stroll through Retiro Park, a favorite among locals for jogging, biking, picnicking, and more. You can even go boat rowing out on the lake! From there, head to the Calle Ribera de Curtidores, one of Madrid's longest flea markets which has been operating for nearly five centuries. Discover some interesting antiques and great, local souvenir items here! At night, head to the main cathedral of Madrid, the Catedral de Santa Maria, and see it flooded with colorful lighting. This cathedral was only recently completed in 1993!
The must-see museums of Madrid include The Prado and the Rena Sofia.The Prado is one of the finest art galleries in the world with well over 8,000 priceless works of art. Consider it the Spanish version of The Louvre, containing important works by both Goya and Velasquez. The Rena Sofia is also a true 'have-to' visit. The Rena Sofia is home to Picasso's works of art, including Guernica. If you are into surrealism and modern art, go for a wander through this impeccable, glass-filled exhibition building.However, the building with the most grandeur and magnificence in Madrid has to be the Palacio Real. This is the official residence of the King of Spain, but the royal family actually does not reside here any more and is mainly used for stately ceremonies. It is currently the largest palace building in Western Europe! Real Madrid is one of Europe's most successful soccer teams, so a visit to the Santiago Bernabéu Stadium is totally worth it for the big sports and national games fans.
Of course, when in Madrid you must experience some of the exciting nightlife on offer. Tapas bars, cocktail bars, flamenco theaters and traditional restaurants line the vibrant streets. In terms of cuisine, a typical dish for Madrid locals is Cocido madrileño, which is a must try dish for those wanting to try an authentic Madrid meal. We recommend visiting La Gabinoteca, featured on Anthony Bourdain's travel show, where you can have some outstanding tapas for budget-friendly prices.