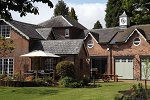 Welcome to Manchester, home of infamous Manchester United Football Club and Britain's liveliest, most vibrant peoples, history, culture and nightlife. Boasting an energetic and lively historic city center, Manchester is famous for its musicians and its historical importance within the scope of the industrial revolution.
Finding an Apartment in Manchester: From Downtown Accommodation to Countryside Rentals
There is plenty of accommodation to choose from if you are considering a trip to Manchester. Wimdu, for example, has over one hundred apartments from deep in the city center's Northern Quarter to way out in the delightful and scenic suburbs of Salford and Fallowfield. Do some quick research, shop around, and compare to find accommodation at the best price-quality ratio for your trip to Manchester. Interestingly enough, there are also vacation rentals on offer right next to Manchester Airport, perfect for the extremely short trip to Britain's home of Manchester United and the world origin of the industrial revolution.
Manchester: Legacy and How You Get Around
Dubbed "Cottonopolis" in the Victorian era, Manchester was the British epicenter of all things clothing and textile production during the industrial revolution. Full of packaging warehouses, trade houses, exchanges and more, the city also earned the moniker "Warehouse City" and currently displays some of the country's best-preserved architecture from the era. Many of the old alleys, cotton mills, factory buildings, bridges, and canals still exist and can be seen by the clever visitor on foot even today. And if you have a place to stay in Manchester, such as a short stay rental, seeing the true Manchester should be as simple as getting around it!
Thanks to Manchester's public tram system, which is the largest of its kind in the United Kingdom, getting around the city is simple. Hop on the Met ("Metrolink") with a Day Travelcard (£7 for adults at peak hours), easily available at any of the ticket machines on every platform. All machines are serviceable in multiple languages, such as German, Polish, French, and Spanish. For further travels, most local rail services pass through Piccadilly and Victoria stations. Also, taxis in Manchester are cheaper than in London; you can get anywhere around the city center from about £6 to £12. To that end, staying at a nice apartment or flat in Manchester can definitely be considered more affordable when comparing with London!
Did You Know? About Manchester
First founded in 79 AD as the Roman fort of Mamucium
3rd most visited city in the United Kingdom after London and Edinburgh
The warm Manchester dialect is known as "Manc", and they refer to themselves as "Mancunians"
Manchester United were the first English winners of the European Champions League (1968)
Home to famous rock idols such as Morrissey, Liam Gallagher, and Ian Curtis, among countless others
From Castlefield to the Printworks: What To Do In Manchester
Castlefield! You have to visit Castlefield if you care anything for history, as it is the site of the ancient Roman settlement Mamucium. From Deansgate-Castlefield station you can easily reach Mamucium, the vast and gorgeous St. John's Gardens and MOSI (Museum of Science and Industry), where you can brush up on your industrial revolution history. What better place to learn about the industrial revolution than in the heart of the very place where it began!
From Castlefield head on to St. Ann's Square and the Millennium Quarter to experience some of the UK's most diverse shopping opportunities. Exit at Victoria station and indulge yourself in a mixture of upscale and mid-range shopping with a dash of cultural overload. For some great dining, head into the Printworks, a covered merchant street where you can enjoy both world-class and affordable international dining options. A local secret would be to tuck into The Angel Pub, a traditional English pub where you can sample real British ales and fantastic British pub fare (Rochdale Road). Order your fish and chips the Manc way: "Fish, chips and peas with pea wet!" Afterwards, pay a visit to the Royal Exchange, a neo-classical trade building that was once the commercial heart of Manchester and thus the heart of the world's cotton industry, and enjoy some of the fantastic coffee they serve at the main building café. Countless art galleries and museums are also in the immediate vicinity, providing you ample opportunities for discovery!
Venture Outside The City: From Didsbury to Rusholme
There are countless opportunities for sightseeing and exploration outside the usual Manchester city limits and downtown areas. Take, for example, a day's excursion to the suburbs of South Manchester. From Didsbury to Rusholme, there is something for everyone to take home by visiting this part of town. Didsbury is the historical home of Manchester's traditionally wealthy and Jewish workers, and today is one of, if not the most expensive suburb of the city to live in. For this reason, and also on account of the gorgeously traditional British houses and garden landscapes, even local Mancunians flock to Didsbury for eating out or having a great pint. It is the top restaurant for this area in the summer months and feels more like an English village than a suburb.
Why not visit Whalley Range for its Grand Victorian homes and buildings and beautiful landscapes, or Rusholme for its famed Southern Asian cuisine, especially renowned for its curry dishes. Likewise, a visit to Moss Side will show you the more international side of Manchester with its lively African and West Indian communities, providing you with superb Carribbean dining. Or hop on over to Chorlton-cum-Hardy for that extremely young and trendy feel with its artistic population and countless cafés.
Explore Manchester From Your Apartment or Flat
Come visit Manchester and experience the winding, romantic canals and industrial age architecture. Not to mention the fantastic nightlife and traditional English pub fare! Visiting and finding accommodation in Manchester means having the opportunity to truly experience what daily life is like for the British. The choice is all yours!