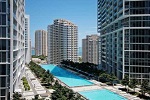 Miami, world-famous resort, spa, and vacation city on the Atlantic Coast, boasts the 7th largest metropolitan area in the United States and is home to the largest Latin American populations outside of all Latin America. English is the official language for municipal and business purposes, but there are many Miamians who speak no English at all, and Spanish-English bilingualism is very common here. For many Latinos, Miami is a gateway city of opportunity for gaining work and a new life in the United States. Miami ranks as one of the top-visited places in Florida, and as such, one can imagine the vast opportunities for renting apartments or condos in sunny, relaxing, and nightlife-filled Miami. However, Miami is one of the international community's most important trading centers, and caters to professional business types and international conglomerates as well as your average Spring Break party-goer. Miami is consistently distinguished as America's "Cleanest City" by Forbes magazine, and attracts nearly 40 million visitors each year. The city lies nestled on the coast just between the Florida Everglades and Biscayne Bay. The Florida Everglades is a large swamp region, and interestingly enough, hosts one of the highest amounts of exotic animal species on the planet.
Accommodation in Miami, from condo rentals to downtown Miami apartments
Miami is interesting as it stretches over 100 miles north to south, due to its close, sandwiched proximity between the Everglades and the Atlantic Coast. It is comprised of 8 main districts: MiMo Boulevard, Midtown, Design District, Overtown, Downtown, Little Havana, Brickell, and Coconut Grove. Please note that Miami Beach is actually a separate city from Miami, and is treated as such in discussion about vacation rentals or apartments in Miami. For quick and easy access to the downtown areas and the best nightlife and relaxation options, we recommend staying in a vacation rental in the Midtown, Brickell, or Downtown districts of Miami. Miami is a very popular city mainly due to its beautiful beaches, nightlife, festivals, and its rich and varied culture, not to mention being one of the world's premier shopping destinations. It is considered one of the most glamorous places for all of the above mentioned activities. If you are looking for something more historic, you can also check out the historic districts and neighborhoods where you can check out different cultural hotspots, such as Coconut Grove, Little Haiti, or Little Havana.
Buenvenidos a Miami: Top Attractions, Shopping, and Cuisine in 'The Magic City'
No visit to Miami is complete without visiting one of it's famous beaches at least once. Miami's various beaches are open to visitors all year round due to the pristine Atlantic coast weather Miami gets. South Beach, consistently ranked as one of the best beaches in the USA, is located in the neighboring, separate municipality of Miami Beach. After soaking in the rays in Miami Beach, it is nice to head into one of the many museums within the Miami city limits. The best museums include Vizcaya Museum and Gardens, Frost Art Museum, and Lowe Art Museum. Frost Art museum caters to a fantastic selection of 60s photography as well as ancient works of art dating from years 200 to 500 (before Columbus). Lowe provides a great selection of artworks from all centuries, including Roman and Latin American artifacts. Villa Vizcaya, located in Brickell just on the coast of Biscayne Bay, is an old colonial-style building offering acres of gardens and a house filled to the brim with artwork and various furnishings. Admission is free for kids 5 years or younger, while adults need to pay $12 for entry.

Miami is also very famous for it's fruit production. Florida oranges are internationally renowned for their great flavor and firmness. Pay a visit to the Fruit and Spice Park and sample all the different types of fruits that are being grown in Miami's subtropical environment. Alternatively, try out Robert is Here Fruit Stand and Farm to scrounge up some highly sought-after locally-grown fruits and vegetables. They also have highly-acclaimed fruit smoothies, and are located just a few minutes away from the entrance to the Everglades National Park, not to mention the nearby alligator farm! And speaking of alligators, venturing out on a trip to the Everglades National Park while you are in this part of the world is definitely a must. The Everglades is the third-largest national park in the continental USA. It stretches across nearly 2 million acres of southern Florida wetlands and is home to thousands of rare and endangered animal and plant species. Famous examples include the rare Florida panther, West Indian manatee, and the dangerous American Crocodile. Head west on Route 41 for the quickest way to the Everglades from Miami. We recommend trying out Cypress Airboat Rides, where you can have the opportunity to cruise along this amazing ecosystem in an ingenious machine designed to not harm the wildlife in the waters beneath it.

Miami and shopping are practically synonyms for a lot of people. That is because there are tons and tons of stores where you can find anything from clothes, cosmetics, furniture to all sorts of weird accessories for pets. Three of the most popular spots for shopping are Aventura Mall, Bal Harbour Shops, and Bayside Marketplace. But there is more out there than shopping, take festivals for example; Miami is famous for its Calle Ocho Festival and Carnival Miami. It is also a place known for being one of the largest performing arts centers in the country, so you will never run out of shows and theater events to enjoy with the whole family. The same thing goes with music, due to the many Latin American communities living here you can find concerts of all sorts of different musical styles in boundless and sunny Miami.

This amazing mixture of cultures that we know as Miami is also known around the world for its unique New World cuisine. It is a blend of Latin, Caribbean and European flavors and techniques. But even with Latin cuisine being the most popular one you can still find dishes and restaurants that serve food from China, Japan, the Middle East and Italy. As could be expected from such a varied city, in it the luxurious restaurants with creative and unique dishes coexist in perfect balance with food trucks and many bars where you also get a taste of the delicious local food. So stay away from the fast food chains, and dare to try Miami's unique cuisine.

Miami's nightlife is all about upscale hotel lounges, nightclubs, and independently-owned bars frequented by locals. Popular Miamian drinks include mojitos, Cuba Libres, and Long Island Iced Teas. There normally is not a dress code for the bars or hotel lounges, but in order to get into a decent nightclub, you really do have to dress to kill. We recommend the M-Bar in Brickell for their famous martinis. Otherwise, it's a better idea to head to Miami Beach for some active nightlife!
Miami: The Best Way to Get Around
One of the best ways to truly 'see' any city is to simply walk from point A to B, but watch out, as Miami is a rather large city! Thankfully, however, Miami hosts a fantastic public transportation system. Firstly, there is the Metrorail, which is an elevated train system serving greater Miami and the surrounding cities with over 23 stations. It also offers connections to points of tourist interest as well. On top of this, there is the Metromover, a monorail system serving the major destinations of the city center and Brickell. There is also a great bus system in Miami, readily accessible and mostly safe from any of the various stops in the city. All this aside, we really recommend renting a car during your stay in Miami, as this is the tried-and-true fastest and most convenient way to get around. With a car, you also have the added benefit of being able to enjoy chilled-out air conditioning, which can be a great reprieve from those particularly hot, subtropical days.