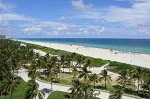 Considered to be a part of Miami by many, the famous Miami Beach is actually a small barrier island connected by bridges to the larger urban area of Miami, Florida. Due to it's vast north-south length, Miami Beach can be broken down into three separate districts: North Beach, Middle Beach, and the world-famous South Beach. It originally was intended to become a coconut farm, but after construction teams removed all the mangroves, it was quickly recognized by real estate agencies as prime beach-front property. Miami Beach is a world-class destination for shopping, with thousands of visitors roaming through the shops and restaurants along Collins Avenue and Lincoln Road every day. Miami Beach is also well-known for its high-end night clubs and Art Deco architecture, touting the most of its kind in the whole world with over 800 Art Deco buildings. Also, did you know that a Miami Beach pharmacist was the first to invent modern suntan lotion? Many visitors describe it less like an American city and more like a Central American resort, with its stunning sandy beaches and a friendly population speaking a blend of Spanish and English. The climate here is generally warm and humid, with dry and warm winters and springs, and hot, rainy, humid summers and falls. Thanks to its coastal location it never gets as hot or as cold as in the interior areas of Florida.
Miami Beach: World-Class Destination with Countless Accommodation Possibilities
Since Miami and Miami Beach are frequently visited by tourists from all across the globe, and not just from Canada or the United States, there has been a large influx of fantastic accommodation options. These range from expensive, upscale hotels to more affordable Miami Beach rentals or vacation rentals, where you or your large group can stay in a large apartment or beach house together. Staying together in a Miami Beach vacation condos like this will help you foster proud vacation memories that you are sure to never forget. Picking a Miami Beach location for your beach apartments or rental condos is as simple as knowing exactly what you would like to do while in Miami Beach. For example, for those who just would like to soak up some sun or bring their families to an amazing beach (maybe for first-timers as well!), staying in a rental right by the water in South Beach is a must. However, if you are more into the nightlife and not so much beaching, then definitely consider staying in the southern area of Mid Beach or northern South Beach district.
Miami Beach 'Fun in the Sun': What Else There Is To Do
For a bit of architectural delight, head over to the Art Deco Historic District located in South Beach. You can join a walking tour which will give you an insight into the cultural history of the beautiful buildings, their former inhabitants, and the area's general pop culture. Catch some rays at the beach and enjoy the calm blue waters of Biscayne Bay or the Atlantic Ocean, and do some people watching up by the board walk. After all that rest and relaxation, how about heading into the pulsating nightclub scene either in South Beach or inland at Coconut Grove, the southernmost district of mainland Miami. If you're in the mood to spot celebrities and hang out with the beautiful, rich, and famous, the Liv Nightclub on Collins Avenue is where you want to go, but beware, as the price tag for entry and drinks is super high! Why not enjoy a day out on the water by hiring a boat and seeing Miami from the water? Affordable rental boats are available at Miami Boat Rentals and Yacht Charters on Collins Avenue. Or for a day away from the beach, check out the Venetian Pool. It gets amazing reviews by locals and visitors alike for its beautiful turquoise water, caverns, grottos, and waterfalls all surrounded by glamorous architecture and thick greenery. Zoo Miami is the largest and oldest zoo in Florida and the only tropical zoo in the United States. Four main exhibit areas split the zoo into Asia, Africa, the Amazon and Beyond, and Australia. The zoo also has an air-conditioned monorail that takes visitors between the various sections and provides an aerial view of many of the enclosures. The Miami-Dade County Fair & Exposition attracts over 700,000 visitors every year, making it one of the largest fairs in the country. It is held in late March and early April and offers a daily 'mardi gras' parade, up to 100 rides, 170 food vendors, countless shops, and the World Agriculture competition!
Getting In and Around Miami Beach
Miami International Airport is the closest airport, however Fort Lauderdale International Airport is only 40 minutes away as an alternative. You can reach Miami Beach from either airport by bus or by car. Car rentals are the most common form of transport for visitors to the area, thanks to its convenience and also as taxis are rather expensive. Once in the city, a car is still the best option as the bus system is not as developed nor as regular as in most major cities, and as mentioned before, taxis are everywhere, but also expensive. Renting a bicycle is another option, and in recent years, new bike paths and lanes have been popping up around the city, especially in the well-visited South Beach area. Again, when renting a car, you will have the added comfort of air conditioning to keep you cool on those hot summer afternoons on the road!