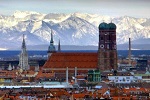 The grand and majestic Bavarian city of Munich is one of Europe's top ten cities. The city is steeped in history and has a strong cultural identity. You wouldn't know the center of Munich was almost completely destroyed - it's been lovingly restored since then and today the city center is a sight to behold. The city has many beautiful and impressive buildings including the Frauenkirche and Neues Rathaus. Karlsplatz (known locally as Stachus) is a pretty square popular with locals and tourists alike. The English Garden is a huge park that is a must-see in Munich. Come to Munich for the internationally-famous Oktoberfest, and finding some Oktoberfest accommodation on Wimdu is as simple as checking out the available rentals for Munich.
Finding an apartment, vacation rental, or bed and breakfast in Munich
Throughout Munich there are many apartments and vacation rentals to be had specifically within the city center. However, if you would still like to find accommodation outside of the city center in one of the more quiet suburban areas, there are plenty of options in places such as Unterschleissheim, Groebenzell, and Feldkirchen. In the summer months however, it is particularly clever to orientate your Munich accommodation near one of the larger parks, such as the Englischer Garten. This way you are just a stone's throw from rest and relaxation in the great outdoors, all within reach of the best beer gardens and restaurants in Germany. By checking out Wimdu's excellent selection of apartments, flats, and bed and breakfast options throughout Munich (not to mention the possibilities for Oktoberfest accommodation), you are deciding to truly 'live like a local' and get the best experience possible in this gem of southern Germany.
Did You Know? About Munich
Beer is Munich's water. It can be bought everywhere including in vending machines! It often costs the same as water too!
Nudists frequent the Englischer Garten (English Garden) park in the center of Munich!
Local Bavarians refer to the city as 'Minga'. Munich in German is München (also written as Muenchen).
None of Steven Spielberg's 2005 epic historical film 'Munich' was filmed in the city!
Oktoberfest actually happens in September and ends in the first week of October, and is not specific to Munich alone; in fact, there are huge Oktoberfest celebrations in other German cities such as Mainz and Koblenz, which are also worth visiting for a short Oktoberfest vacation.
Things To Do In Munich
As we mentioned, Munich city center is packed with amazing architecture. The Frauenkirche's two dome-topped spires stand out on Munich's skyline and due to the city's height restrictions it's one of the few tall buildings in the city. The church was one of the few structures to survive World War Two intact and the enormous interior is well worth having a look at. The church is situated by Marienplatz, one of the center's several squares. This square is a good place to people watch - sit outside one of the cafes located around the square and enjoy a coffee. The town hall, Neues Rathaus, is just a short walk from Marienplatz and is another of Munich's top sights. Visit the Rathaus at either 11AM or an hour later at 12PM - the building's legendary Glockenspiel plays a tune and the model Glockenspiel Girls perform a dance on the facade of the building. Take a trip up the spire of St Peter's Church which is in the same area. At the top of 300 steps there are some breathtaking views over the city.
Das Bier
Munich and a glass of local Bavarian beer go hand in hand. The city has some legendary beer halls, beer gardens, and Bavarian beer is known to be of an extremely high quality. The world famous Oktoberfest originates in Munich and every year people flock to the city to enjoy a 'Mass' (often referred to as a 'Stein', which is the name of the special, decorative mug) and drink to a German tradition that celebrated its 100 year anniversary in 2010. Where are the best places to drink beer in Munich? The Hofbräuhaus (pronounced hoff-broy-house), an inn located on the Platzl street, was originally built in 1598. Visiting the Hofbräuhaus might seem a little intimidating at first but don't let the loud atmosphere and apparent lack of seating put you off. Find a place along a bench and squeeze in. The service, beer, and food is impeccable and you should certainly set aside for a few hours for this totally authentic German experience!
Another great place to soak up Munich's intoxicating atmosphere is in the Englischer Garten, a large park in the center of Munich. Designed with the idea that every citizen of Munich should have access to green open space, this park is huge and stretches far along the River Isar which runs through Munich. At the center of the park lies the Chinese Tower and a huge beer garden with places for up to 7,000 guests. It is one of the biggest beer gardens in Germany and an old Munich law allows drinkers to bring their own food to eat. In the summer the atmosphere is fantastic and the beer garden is designed to promote socialising.
Museums and Castles
A visit to Munich wouldn't be complete without checking out the city's fine selection of castles and museums. Germany's royal family resided in Munich for over 500 years and they certainly left their mark on the town. Check out the Residenz, the former palace of the Bavarian monarchs between 1385 and 1918. During this time they built and large and impressive collection of artwork and today you can walk around the palace's 100 beautifully decorated rooms and admire the paintings and sculptures. The kings of Bavaria liked to spend their summers in the Schloss Nymphenburg, a short train ride west of the city center. It's a huge and beautiful palace with vast expanses of water. It's nice to take a picnic and relax in the luxurious gardens of the palace.
With regards to Munich's best museums, we highly recommend you visit the Deutsches Museum. This is Germany's most visited museum and is visited by 1.5 million people each year. The museum showcases Germany's scientific and engineering achievements including space travel and automotive successes. It's well worth a visit - make sure you check out the coal mine and World War era objects. For those interested in art, visit the Alte Pinakothek which has a large collection of 14th - 18th century paintings including works by famous artists such as Botticelli and Dürer. The concentration camp of Dachau is a harrowing but worthwhile visit. It is the site of unbelievable brutality against the Jews and other targeted peoples in World War Two and today it is a memorial site. It's accessible on one of the S-bahn metro lines running to the north of the city.
How You Should Get Around Munich
Located close to the Swiss and Austrian borders, Munich is a popular stop off point for people visiting the region. Munich Airport is a very busy airport and is situated just northeast of the city. The journey from the airport to the city center takes around 45 minutes and two S-Bahn lines run between Munich's Hauptbahnhof (central station) and airport. Getting around Munich is straightforward and the city boasts a formidable U-bahn and S-bahn metro system. There are also trams and buses operating in the center. If you are planning on being in Munich for more than three days it is best to buy a weekly transport ticket. Munich public transport is integrated meaning your ticket works on all forms of transport. You'll find just walking around the Munich city center is certainly doable and most attractions can be reached rather quickly. Munich is also within driving distance of popular Austrian skiing destinations such as Innsbruck, and Munich's airport is used by many heading south for the snowy hills.