Top-Rated Rentals and Accommodations in Myrtle Beach
Book Vacation Rental Offers with the Highest User Rating
Pet-friendly rentals in Myrtle Beach
Explore best dog-friendly accommodation offers and enjoy vacation with your pet
Accommodation with Internet in Myrtle Beach
Choose your ideal rental with Internet and WiFi in Myrtle Beach
Vacation rentals with pool in Myrtle Beach
Discover best cabin and house rentals with pool in Myrtle Beach
Best vacation rental offers in Myrtle Beach
Price and Availability Index in Myrtle Beach
Click on any bar to see price and availability information
Vacation Rental Price Information in Myrtle Beach
Check the graph above to find out what's the best time to travel and find accommodation in Myrtle Beach. Vacation rental prices are the highest in june (6/29 – 7/6). However, it's great if you plan to book an accommodation in january. In this period vacation rentals are comparatively cheap, with average prices of $164.
Rental availability information in Myrtle Beach
Above, you can see what percentage of vacation rentals in Myrtle Beach are available at different times of year. The busiest week of the year is in November (11/9 – 11/16). On the other hand, only 31% of vacation rentals in Myrtle Beach have been booked in June, so this is a good time to look for deals.
Apartments & Vacation rentals Myrtle Beach
Rent a vacation home in sunny Myrtle Beach
Here lies the famous "Grand Strand", a snow-white beach almost 100km long, which captivates thousands of visitors every year. A variety of restaurants, shopping miles and other recreational opportunities such as theme parks give boredom no chance. Explicitly the passionate golfers will find a paradise here - more than 120 golf courses are located within the radius of vacation rentals in Myrtle Beach.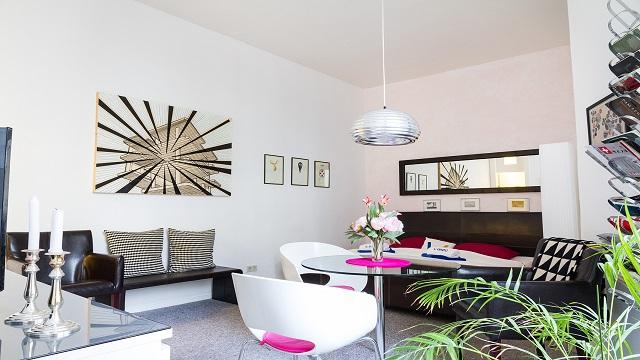 Apartments in the center of attractions

The whole of Myrtle Beach can be seen as an entire adventure park. Every corner and edge is teeming with entertainment businesses. Family Kingdom Park is an adventure park for young and old in close proximity to the beach. Here you will find rides of all kinds. Right on the beach is Myrtle Beach's "Sky Wheel" Ferris wheel - where you can get a very nice view of the North Atlantic and Myrtle Beach. In addition to traditional attractions, Myrtle Beach also offers several adventure water parks such as the Myrtle Waves Water Park with several slides and adventure pools. Ripley's Aquarium is a very inexpensive way to learn about the diversity and beauty of marine life.

In many eyes, Myrtle Beach is the golf capital of all. Over 120 golf courses of the most diverse requirements make golfers' hearts swell. Of course, the "Grand Strand" is not lacking in water sports such as wakeboarding, jet skiing and general boat rentals. Cycling and jogging is twice as much fun in the many parks and the boardwalk as it is at home. All other sports are also offered very extensively, with a whopping 200 tennis courts on offer as a little teaser. If you prefer to spend your vacation further north in North Carolina or the capital Washington D.C., you will also find interesting offers in this regard!

And we love our apartments
Other Popular Vacation Destinations
Destinations worth visiting near Myrtle Beach
Interesting destinations to consider for your next trip