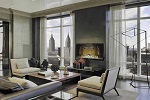 Welcome to the Big Apple, otherwise known as New York City, New Yawk, NYC, Gotham City, or 'The City That Never Sleeps'. New York City is truly a world capital city, with a dominating, iconic skyline that is one of the largest in the world and certainly the most recognizable. With over 8 million inhabitants, New York is the most populous city in the United States and is an important world center for global finance, politics, culture, and tourism. Iconic symbols of New York include the Empire State Building, Central Park, the Statue of Liberty, the United Nations Headquarters, and the former World Trade Center. New York, originally founded by the Dutch as 'New Amsterdam' in 1625, consists of five 'boroughs', or districts: Manhattan, Brooklyn, Queens, Bronx, and Staten Island. Many place names throughout New York City today bear names from their Dutch colonial past, such as Flatbush, Yonkers, and Harlem. Wimdu offers apartments in New York that are affordable and well-situated, but it doesn't end there! Our apartments are occupied and looked after by authentic New Yorkers, people who know where to find the best slice, the strongest coffee and the liveliest bars. Our hosts are passionate about their city and are keen to impart their knowledge and give local recommendations, maybe even a bit of New Yorker slang! Why not stay in an authentic, loft style New York apartment, complete with high ceilings, wooden floors, and floor-to-ceiling windows? If you position yourself at the perfect location in the city, you can go from your apartment to any of the best places to see in a New York minute!
Accommodation in the Big Apple: New York Apartments, Short Stay Apartment Rentals, and More
New York may be known as the city that never sleeps, but even the most adventurous amongst us will need somewhere to crash every now and again! A good way to make your stay unique is to avoid the many over-used and sterile hotels. Why not go for a beautiful penthouse vacation apartment in one of New York's trendiest districts or sample a true New York style apartment rental in one of the many districts and boroughs throughout this vibrant metropolis. For those traveling NYC on a budget, consider one of the many rooms for rent or classic New York bed and breakfasts. Popular districts to stay in include Manhattan and Brooklyn, and due to their popularity have higher accommodation costs when it comes to the apartments for rent in those areas. Staying instead in one of the lesser-known boroughs, such as Queens or even in bordering Long Island, will not only save you money but also give you a better perspective of everyday life for real, native New Yorkers. Considering the vast size of the city, it is ultimately important to choose your own New York apartment rental close to the subway stations, sites, and attractions that interest you the most.
Did You Know? About New York City
Nearly half of NYC's residents over 5 years of age speak a language other than English at home
The first pizzeria in the United States opened their doors in New York City in 1895.
It can cost nearly $300,000 for a one-year-long permit to run a hot dog stand in Central Park.
The island of Manhattan, meaning 'island of many hills' in Lenape language, was purchased by Dutch colonialists from non-affiliated Native Americans in 1626 in exchange for around $1,000 worth of traded goods.
The only other city on the planet with more skyscrapers than New York City is Hong Kong.
Central Park in New York is actually larger than the whole country of Monaco!
The famous Statue of Liberty was a gift to the United States from France in 1886 and was not only a symbol of freedom for the US, but also for France while under the repressive regime of Napoleon III.
NYC's Top Attractions, Scenes, and Communities
While in New York it's important to be yourself, but you also need to consider how to act around local New Yorkers. New Yorkers tend to be very assertive and usually know exactly what they want and how to ask for it, so don't be thrown off by their forward attitudes. Popular TV shows like 30 Rock, Friends, and Seinfeld help describe what life is like in New York City. New York is a city with something for everybody, every hour of the day, and the best way to get around is by foot. The cityscape, local characters you will meet on every street corner, as well as many of the world's renowned attractions make this city a must for all travelers to the United States. We recommend grabbing a New York style hot dog or cream cheese bagel and paying a visit to the Empire State Building or the Statue of Liberty. In the hot summer months, it is a particularly great idea to find some ice cream and head to the fountain in Washington Square Park, a popular hangout area for tourists and locals alike. Another great idea is to pay a visit to the UN Headquarters, with guided tours Monday through Friday, and to check out the the Museum of Modern Art (MoMa), one of the world's most important and focal modern art museums.
For eating out, definitely venture at least once into both Little Italy and Chinatown. New York City is a metropolis built on the backs of immigrants from around the world, mainly those from Italy, Germany, Poland, Russia, Ireland, and China. As such, we highly recommend enjoying some local Italian food from a true 'Mom and Pop' joint in Little Italy. You'll feel welcome with the great pasta and gnocchi in a small, cramped eating space reminiscent of Rome, complete with red and white checkered table cloths. Try the world-famous New York pizza style, which normally has thin crust and more flavor, unlike the other famous pizza variety from Chicago known as 'deep-dish pizza'. Or why not venture into Chinatown, get a massage and try out some of the world-famous Chinese delicacies at one of the many family-style traditional eateries. While in Chinatown, it is also definitely worth visiting the famous Mahayana Buddhist Temple, located just at the foot of Manhattan Bridge. Deep inside is the largest Buddha statue in the city at 16 feet in height.
New York is famous for it's baseball fervor as well; the New York Yankees arouse the some of the strongest Baseball fandom in the whole country, having one countless World Series and featuring famous players such as Lou Gehrig, Joe DiMaggio, and Babe Ruth. The Yankees and the Yankee Stadium are based in Bronx. Another famous NYC team is the Brooklyn Dodgers, featuring the first African American to play in Major League Baseball, Jackie Robinson. Brooklyn itself is one of the five boroughs of NYC, located on Long Island just south of Manhattan. Brooklyn is world-famous for its anti-establishment subcultures, international varieties of Hispanic, Jewish, and Caribbean cultures, and the so-called 'hipster' movement. Take the subway out to Williamsburg and find an excellent café or Vegan lunch restaurant, and spend the evening chatting the hours away with local Brooklynites about music or politics. Finish off your evening by viewing an acoustic open mic session in someone's cobble stone courtyard over a pint of amazing Brooklyn India Pale Ale. For a typical Long Island beach experience, head out to Coney Island and enjoy one of the USA's most historically well-known and important beaches, a cultural staple of local New Yorkers.
Getting Around New York City: Walkin' Around, Taxi, Subway, and More
The best way to really get to know New York City is to go around on foot, just like the locals do day in and day out. Going around on foot between destinations gives you the advantage of being able to really soak the local scenery in. Going on foot is the true New Yorker way, and native New Yorkers are so good at walking, in fact, that they treat the city sidewalks as a sort of highway system. You stay to one side unless you're going in overdrive to get somewhere! The classic way to get around this world metropolis is to flag down one of those infamous Yellow Taxis. A first-time New York visitor absolutely must try to hail one and take a ride a couple of blocks, at least; the driver will claim to get you wherever you want to go within a New York minute (meaning 'an instant'). The more economical form of getting around, however, is the public transport. Buy a New York MetroCard in order to take advantage of the city's bus services and subway lines. It is the most efficient mode of long-distance transportation in the city and ideal for a day of both sightseeing and a night of wining and dining. Wimdu recommends staying a vacation rental or New York apartment close to one of the subway stations so you don't have to walk too far to get somewhere far across the city, fast.