On the best street of Aksaray and Laleli (Yildiz 5 Apt.)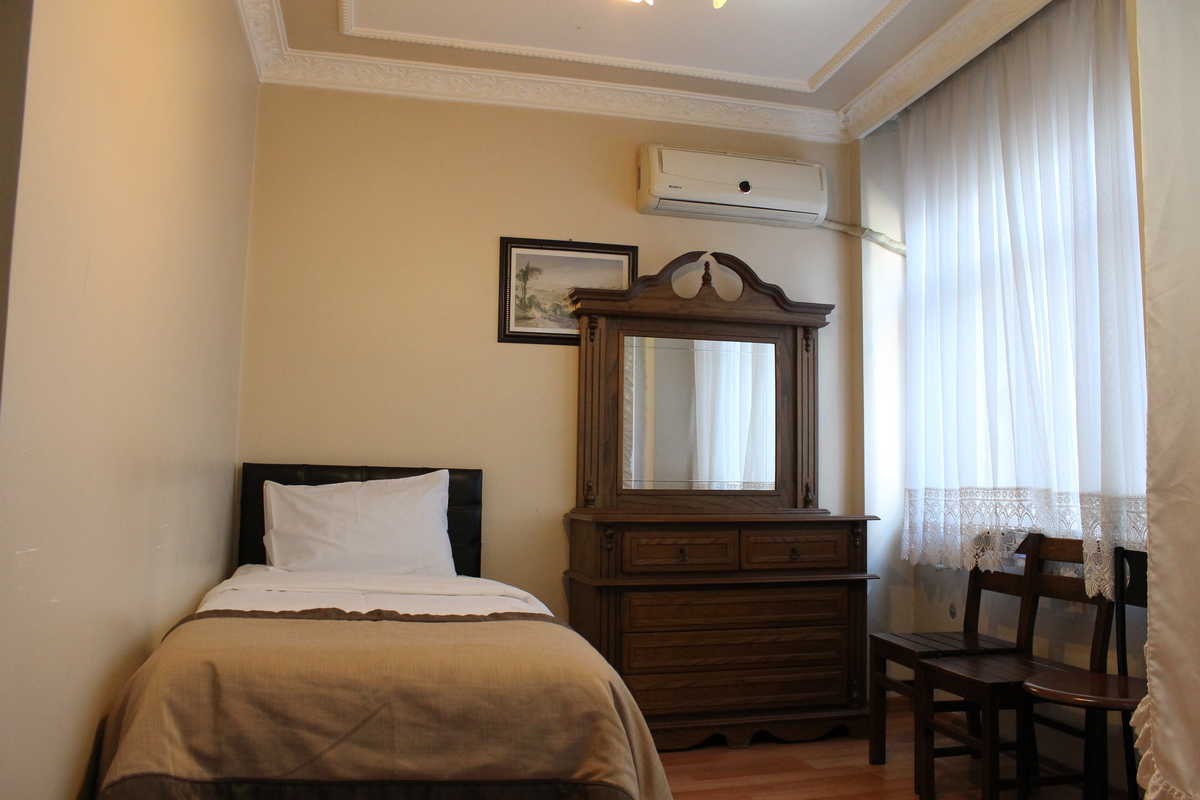 Accommodates

4

Bedrooms

2

Bathrooms

1

Size

55 m²

Floor No.
Family/child friendly
Internet/WiFi
Kitchen
Air conditioning
Washer/dryer
TV
Parking available
Suitable for events
Description
Wimdu Verified
Translated by Google Translate Show original version. FURNISHED RENTAL FLAT & APARTMENTS IN ISTANBUL, AKSARAY

Rental Moble Flats, at the heart of Istanbul, AKSARAY…

Yıldız 5 Apart :1 Sleeping Room and 1 Saloon-Living/Dining Room (1+1 ,60 m2)
This spacious apartment for up to 4 guests is located in the Aksaray District. The surrounding neighbourhood boasts excellent transport links and a selection of shops and supermarkets.
The Blue Mosque, Topkapi Palace and the Grand Bazaar can all reached within a 10 minutes' journey by tram. Aksaray Metro Station provides connections to Ataturk International Airport.
Guests will find a wide selection of shops, supermarkets and dining options in the surrounding neighbourhood.

This flat is at the 4. floor. The 60 m2 flat has a separeted bathroom, wc and kitchen, 1 Sleeping rooms and 1 Saloon-living/dining room. There are one extra sofa bed and one single bed for your quest in Saloon-Living Place. Sheets and towels are provided. All flats new decorated by all equipments. Central Heating and 7/24 hours hot water, air condition, LCD TV, Satellite (Turksat, Nilesat, hotbird) with International Channels, Wi-Fi high speed internet, Refrigerator, Equipped kitchen, plates, forks, spoons, knives, pots, kettle and cooking equipment in the kitchen, there are stove, Washing Machine and Dry Machine in house, Fresh towel and sheets, cuisine, iron & board, vacuum cleaner, house keeper services etc..

There are 1 Double bed and 1 single bed and 1 sofa bed. 4 person accommodation.
Sleeping room : 1 Double Bed
Living Place & Saloon : 1 Sofa Bed and 1 Single Bed

Flats is near by city center, tranway and metro station, shopping molls ,bazaars and historical places of Istanbul.
Flats are located in between the well known Aksaray, Laleli and Beyazid areas, the flat is near by city center. From the apartment to the Aksaray-Yusufpasa Tranway station only 50 meter. It is within easy reach of Istanbul's most popular spots, restaurants, ,shopping molls, shopping centers, shopping molls, bazaars, markets, cafes, restaurants, local squares, places, park and historical places of Istanbul…. Are close at hand. Laleli, Beyazid, Big Bazaar, Grand Bazaar, Topkapi Place, Blue Mosque (Sultanahmed) are few minutes away.
Our furnished flats can be rented short stay or long stay.
There any TAX, Water, electric, gas and internet bills are included

The places within 5-30 minutes walking distance:
• 1-2 minutes walk from Supermarkets Dia, Bim, bakery, taxi stand, dry cleaning, tailor, Pharmacry, Coffee shop, Hair dresser and many restaurant etc….. 50 meters
• 2-3 minutes walk from Yusufpasa tranway (train) station
• 2-3 minutes walk from Yusufpasa bus station
• 4-5 minutes walk from Aksaray metro (subway) station
• 5-10 minutes walk from Laleli, Beyazid Big Bazaar, Istanbul University, and Grand Bazaar Shopping Center
• 5-10 minutes walk from Laleli Mosque, Beyazit Mosque, Suleymaniye Mosque
• 5-10 minutes walk from Main Hospitales of Istanbul: Haseki Hospital, Istanbul Hospital,Capa Hospital and Cerrahpasa Hospital…
• 15-25 minutes drive by tranway (train) from Galata Bridge, Spice Bazaar, Eminonu Bazaar, Eminonu Mosque, Galata Tower
• 20-30 minutes walk or 10 minutes drive Tranway (Train) from Blue Mosque (Sultanahmed Mosque), Saint (Hagia) Sofia Museum, Topkapi Place, Yerebatan Sarayi-Basilica Cistern, Archeological Museum
• 20-30 minutes walk from Fatih Mosque, Caria Museum
• 20-30 minutes walk or 10 minutes driver by train (tranway) from Cemberlitas, Cemberlitas Bath
• 1 hour walk or 15-20 minutes drive by bus from Taksim Square, Istiklal Street
• 20-30 minutes drive by tranway (train) from Dolmabahce Palace,
Kabatas Ferry Port which leads to Princes Island sor Bosphourus Tour
• 20-30 minutes drive by taxi from Ataturk Airport
• 35-40 minutes drive by metro (subway) from Ataturk Airport to Aksaray Metro Station.


Квартиры в Стамбуле посуточно

شقق مؤثثة للايجار
نظيفة ، بمستوى الفنادق الفاخرة

کرایه آپارتمانهای
لوکس مبله

Rental Furnished Apartments managed by ISTANBUL FLAT
Furnished Rental Apartments in Istanbul
Khane Mobleh Lux Kerayeh Dadeh Mishavad
Kiralık Mobilyalı Daireler
Flats for Daily Rent in Istanbul

AKSARAY'DA LUKS HOTEL KONFORUNDA KİRALIK MOBİLYALI DAİRELER, Istanbul, Aksaray, Yusufpaşa Tranway Durağı karşısında komple tadilattan geçmiş FULL MOBİLYALI lüks hotel konforunda kiralık mobilyalı 1+1, 2+1, 3+1, 4+1 daireler, A'dan-Z'ye her türlü ihtiyacınızı karşılayacak eşyalar mevcuttur. 24 Saat sıcak su, Tüm odalarda KLIMA, TV, çift çanak uydu anteni(yerli-yabancı), Wireless Internet Bağlantılı , tüm mobilyalar, bazalı yataklar, buzdolabı, çamaşır makinesi, ocak, fırın, tüm küçük ev aletleri, ütü ve masası, elektrik süpürgesi, tüm temizlik ve yemek yapma malzemeleri, temizlik garantili, Merkezi Konumda ulaşımı kolay, Aksaray-Yusufpaşa Tranway durağına 50 metre,
• Beyazıd, Laleli, Kapalı Çarşıya yürüme mesafesinde
• Havalimanına 20 dakika
• Otogara 10 dakika
• Taksime 5 dakika
• Fatih Cami 5 dakika
• Haseki Tıp Fakültesine yürüme mesafesinde
• Cerrahpaşa ve Çapa Tıp fakültelerine 2 dakika
• Sultanahmed, Topkapı Sarayı ve Ayasofya müzesine 5 dakika mesafede

IstanbulFlat&Apartment, yurt dışından ve Istanbul dışından gelenlerin iş ve turistik amaçlı ziyaretlerinde, kısa sure için İstanbul'a seyahat eden kişilere ve firma çalışanlarına, fuar katılımcıları ve fuar ziyaretçilerine, stajyerlere, tedavi amacıyla hastanelere gelenlere lüks hotel konforu içinde evlerinin rahatlığını ve sıcak ortamını sunuyoruz.
Yurt dışından gelenler için ideal
Şahsınıza/firmanız için verebileceğimiz indirimli fiyat : XXX USD / Günlük
Su, elektrik, doğalgaz fatura bedelleri fiyata dahilidir.
Tek günlük kiralanmamaktadır, en az 3 günlük kiralanmaktadır.

Квартиры в Стамбуле посуточно

شقق مؤثثة للايجار
نظيفة ، بمستوى الفنادق الفاخرة

کرایه آپارتمانهای
لوکس مبله

در منطقه آکسارای آپارتمانهای لوکس مبله در حد کیفیت هتل

در استانبول منطقه یوسف پاشا در نزدیکی ایستگاه تراموای ، آپارتمانهای لوکس در متراژهای مختلف 1/2/3/4 خوابه با امکانات فول رفاهی دارای آبکرم 24 ساعته،تمامی اتاق ها دارای اسپیلت ،ماهواره،اینترنت وایرلس ،میلمان لوکس،تختخوابهای تمیزوبهداشتی ،یخچال،ماشین لباسشویی و ظرفشویی،و امکانات رفاهی دیگر؛

فاصله تا میدان بیازیت 20 دقیقه
فاصله تا میدان تکسیم 10 دقیقه
فاصله تا مکانهای تاریخی (سلطان احمد،توپکاپی سارای ، ایاز صوفیا 5 دقیقه

شرکت استانبول فلت و آپارتمان برای پذیرایی از تمام کسانی که از اقصی نقاط دنیا به استانبول می آیند مفتخر است که میزبان شما عزیزان باشد و در مدت اقامت شما در آپارتمانهای این شرکت اوقات خوب و خوش و بیاد ماندنی برای شما فراهم آورد .
لازم به ذکر است که هر گونه خدمات اعم از ترانسفر فرودگاهی برای اشخاص و شرکت ها داده می شود.

House rules
Yıldız 5 Apart :1 Sleeping Room and 1 Saloon-Living/Dining Room (1+1 ,60 m2)
This spacious apartment for up to 4 guests is located in the Aksaray District. The surrounding neighbourhood boasts excellent transport links and a selection of shops and supermarkets.
The Blue Mosque, Topkapi Palace and the Grand Bazaar can all reached within a 10 minutes' journey by tram. Aksaray Metro Station provides connections to Ataturk International Airport.
Guests will find a wide selection of shops, supermarkets and dining options in the surrounding neighbourhood.

This flat is at the 4. floor. The 60 m2 flat has a separeted bathroom, wc and kitchen, 1 Sleeping rooms and 1 Saloon-living/dining room. There are one extra sofa bed and one single bed for your quest in Saloon-Living Place. Sheets and towels are provided. All flats new decorated by all equipments. Central Heating and 7/24 hours hot water, air condition, LCD TV, Satellite (Turksat, Nilesat, hotbird) with International Channels, Wi-Fi high speed internet, Refrigerator, Equipped kitchen, plates, forks, spoons, knives, pots, kettle and cooking equipment in the kitchen, there are stove, Washing Machine and Dry Machine in house, Fresh towel and sheets, cuisine, iron & board, vacuum cleaner, house keeper services etc..

There are 1 Double bed and 1 single bed and 1 sofa bed. 4 person accommodation.
Sleeping room : 1 Double Bed
Living Place & Saloon : 1 Sofa Bed and 1 Single Bed

Flats is near by city center, tranway and metro station, shopping molls ,bazaars and historical places of Istanbul.
Flats are located in between the well known Aksaray, Laleli and Beyazid areas, the flat is near by city center. From the apartment to the Aksaray-Yusufpasa Tranway station only 50 meter. It is within easy reach of Istanbul's most popular spots, restaurants, ,shopping molls, shopping centers, shopping molls, bazaars, markets, cafes, restaurants, local squares, places, park and historical places of Istanbul…. Are close at hand. Laleli, Beyazid, Big Bazaar, Grand Bazaar, Topkapi Place, Blue Mosque (Sultanahmed) are few minutes away.
Our furnished flats can be rented short stay or long stay.
There any TAX, Water, electric, gas and internet bills are included

Prices

Monthly rate for up to 3 guests
$ 1269 US
Price for > 3 guests
$ 12 US per guest/night extra
Details

Check-in after
Noon
Check-in before
On arrangement
Check-out before
Noon
Cancellation Policy
Flexible
The Wimdu Promise
We ensure the best quality of properties & services
Quality assured accommodation
Every host is verified by telephone
Secure payment via SSL encryption