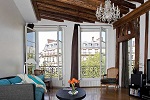 Oh picturesque Paris, the capital of France and fabled City of Lights, has a reputation as being one of the most romantic and heart-warming cities in the world. Its beautiful architecture, the wide, sprawling boulevards, the alluring fashion scene, the young couples kissing by the river... Paris has it all and so much more! There are so many varied and impressive sights to take in here in this European metropolis, from its wealth of museums to the aged cobble stone streets with quaint cafés and chic boutiques to the outstanding range of fine French and international cuisine. Rather than staying in a cookie-cutter, overused hotel or hostel, why not find rooms for rent in a true Parisian apartment, complete with high ceilings, wooden floors, antique trimmings, and French windows? Our Wimdu hosts are passionate about Paris and are keen to impart their knowledge and give recommendations. Our apartments are occupied and looked after by real Parisians, people who know where to find the best croissants, the strongest coffee, the sweet romantic hangouts, and the liveliest bars. Make your trip to Paris a truly memorable one, for the sake of your own Parisian adventure!
How to Find Great Rental Accommodation in Paris
As stated before, Wimdu offers a plethora of rooms for rent or apartments in Paris, ranging from vacation rentals near the Arc de Triomphe to smaller apartment rental studios in artistic Montmartre. By browsing the over 3,000 available apartments and rooms to rent in Paris on Wimdu, you have limitless access to the widest range and variety of vacation rental options on the Parisian market.
Did You Know? About Paris
Paris is the most visited city in the world with over 44 million tourists per year.
There is an exact replica of the Statue of Liberty in Paris, aimed and facing its counterpart in New York City. This acts a symbol of friendship between the two western nations.
Famous British author Ian Flemming modelled his debonair character James Bond after MI6's real-world spy who was based in Paris!
Disneyland Paris is the most visited attraction in Paris!
The Eiffel Tower is given a makeover, including a new coat of paint, once every seven years - that's why it always is looking so good!
While under Roman rule, the capital of France was in Lyon. Paris only became the capital city with the ascent of King Clovis.
What You Should See and Do in Paris
Paris is expensive to stay in - this much is true. But staying in a vacation apartment in Paris is a great way of making the trip more affordable as you are able to make your own coffee at home or prepare a packed lunch. This will save you a great deal of money and allow you to enjoy some of Paris's top attractions. Bed and breakfasts are also not a bad idea. We all know that a trip to Paris wouldn't be complete without visiting The Eiffel Tower, Notre Dame, or The Louvre. These famous French landmarks that we have all grown up hearing about are certainly as impressive in real life as one would expect, and are well worth investigating, but what about the normal day-to-day in Paris? What are the lives of Parisians actually like? Find out for yourself by staying in one of the many apartment rentals available in Paris!
A masterpiece of Gothic architecture, Notre Dame is a 12th century cathedral at the heart of Christian Paris. The Musee d'Orsay hosts a permanent collection of impressionist paintings. It houses some extremely impressive works of art and is located in a former railway station. The Pont Alexandre III is an impressive bridge which connects the Champs-Elysées quarter and the Eiffel Tower quarter.
Fashion & Entertainment
Fashion is a part of the Parisian lifeblood, with impeccably well-dressed people wandering all over town. Perhaps it is the pressure of the Paris Fashion Week, partnered with the London, Milan, and New York fashion weeks, that keeps them on their toes. Paris is great for shopping and its top shopping districts attract millions of visitors per year. The Louvre-Tuileries and Faubourg Saint-Honoré are particularly good for chic home furnishings, designer fashion and cosmetics. The Boulevard Haussmann is home to Paris' most prestigious department stores. For those interested in books, Shakespeare and Company is Paris' most famous English-language bookstore featuring several floors of books on literature and French history. It's often referred to as the best bookstore in the world!
Paris is also home to lively entertainment. The Moulin Rouge cabaret theatre show is a hot ticket and particularly popular with tourists. The Barrio Nightclub is a fantastic Latin music venue spread over four floors. The décor is extremely impressive and the restaurant on the second floor serves classic Latin dishes. La Piano Vache is a popular underground entertainment venue located down the hill from the Pantheon – a must-see for those interested in seeing the gritty side of Paris. In terms of daytime entertainment, Paris has a diverse array of activities to offer. There are zoos and safari parks, water parks, and boat tours. Seeing Paris by boat is a great way to admire the tall, beautiful houses that line the waterways.
The Paris You've Never Heard Of
There are some parts of Paris that are never mentioned in any guide books. We're sure that your Wimdu hosts have plenty of interesting recommendations for you, providing that true 'insider' feeling. Here is what we recommend: The Montmartre Vineyards offer a small slice of countryside in Paris. Planted in 1932, this vineyard produces a limited line of bottles every year and is well worth a visit. A small distance from the centre of Paris is the Cour Saint-Emilion, a village of boutiques and restaurants built in former storehouses. A great place to avoid crowds of tourists. The Catacombs hold the skeletons of 6 million Parisians. It is a little gruesome but well worth visiting by those looking for an adventure. The Bois de Vincennes is located on the far eastern side of Paris and easily accessible by public transport. It is a beautiful garden full of ponds, wildlife and woodland. It is very big and used to be where the king hunted. The beautiful parks of Paris are part of its charm and we urge you to check at least one out! We recommend you bring a picnic too! For example, you absolutely cannot miss a trip to the world-famous Jardin du Luxembourg, with its famous marry-go-rounds and playgrounds for children and outdoor chess sets.
Getting To and Around Paris
Paris' main airport, Charles De Gaulle , is 30 minutes from Paris city center. Paris has an excellent public transport system and many shuttle buses link the airport with the city. The metro is the best way to travel around the city. There are 16 lines and each has a different number and color making it easy to navigate. The Parisian Metro is world-famous for having particularly romantic and beautiful train station architecture. There are 6 zones in Paris and it is worth establishing where you plan to go so you can get the best value from the ticket you buy. Taking a boat is a fun and novel way to travel around Paris. The Batobus company operate along the Seine with 8 stops at all the major tourist sites. A one day pass costs 11 Euros and can really make the difference to your day of sightseeing. Staying with a local in Paris will offer you a great insight into life in the city. Wimdu's range of studio apartments and bed and breakfast accommodation in Paris are affordable and well situated. Living like a local has never been more straightforward in the most romantic city in the world!