Top-Rated Rentals and Accommodations in Plymouth
Book Vacation Rental Offers with the Highest User Rating
Pet-friendly rentals in Plymouth
Explore best dog-friendly accommodation offers and enjoy vacation with your pet
Accommodation with Internet in Plymouth
Choose your ideal rental with Internet and WiFi in Plymouth
Vacation rentals with pool in Plymouth
Discover best cabin and house rentals with pool in Plymouth
Best vacation rental offers in Plymouth
Price and Availability Index in Plymouth
Click on any bar to see price and availability information
Vacation Rental Price Information in Plymouth
In the graph above you can see the typical prices of vacation rentals in Plymouth in each month. July and the period of 7/20 – 7/27 are the most expensive in the year. Typical accommodation prices amount to $253 per night. The average accommodation price reaches its minimum in november (11/30 – 12/7), at $173 per night.
Rental availability information in Plymouth
The above graph shows you how many vacation rentals are available in Plymouth in different months. It's most difficult to find a vacation rentals in Plymouth in November, when only 39% of the vacation rentals on offer are available. The quietest time of year in Plymouth is April (4/6 – 4/13), when 66% of the vacation rentals are available.
Apartments & Vacation rentals Plymouth
Vacation rentals in Plymouth: a stay in the English way
Famous for its naval history, this modern city is filled with restaurants, trendy stores and bars to please everyone, not to mention its many authentic landscapes. Although not as famous as other destinations and located in the county of Devon, it is well worth a visit.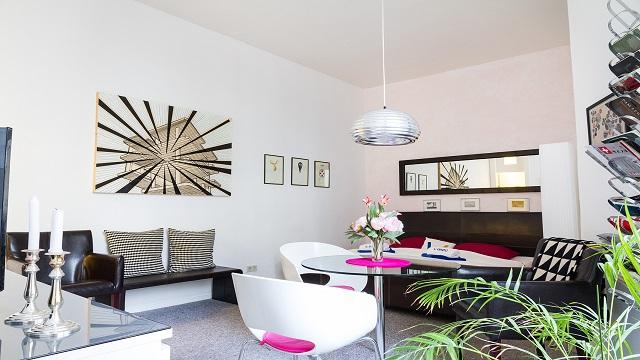 Plymouth vacation rentals in the heart of a charming city

After this break from nature, it's time to leave your Plymouth vacation rental and head to its fun places. Whether you've chosen to travel as a group or as a family, don't miss the National Marine Aquarium, the largest in the country. It's home to many marine animals and will blow your mind with its fun exhibits. Another activity to do: admire a 360° panoramic view from the capsule of a Ferris wheel, which will transport you 60 meters high.

Many other animations are waiting for you thanks to our vacation rentals in Plymouth. Treat yourself to a stroll through the Barbican, a picturesque place with cobblestone streets, which is actually the old port of the English city. If you come during the summer months, especially in July, you'll be able to attend the Summer Festival, a festive event with live music, exhibitions and the famous America's Cup. Plymouth is also a great place to travel along the coast to Brighton.
And we love our apartments
Other Popular Vacation Destinations
Beautiful regions near to consider for next trip
Destinations worth visiting near Plymouth
Interesting destinations to consider for your next trip