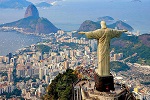 Rio de Janeiro is the most-visited city in the Southern hemisphere, and after even spending a short time there, it will be easy to understand why. It iss famous for its annual Carneval celebrations and beautiful beaches, but there is a lot more to discover about Rio than just these well known attractions. The city offers sharp and fascinating contrasts between densely populated areas and a tropical jungle full of exotic wildlife, as well as run-down, overpopulated shantytowns neighbouring beautiful, spacious upper class areas. It also is home to one of the New Seven Wonders of the World, the Christo Redentor statue (Christ the Redeemer). Whether you are there for a laid-back beach vacation, a party-hard Carneval, or just to enjoy the beautiful landscape surrounding Sugarloaf mountain, Rio de Janeiro's unique and vibrant culture is sure to impress you. When it comes to Rio apartments or vacation rentals, there is plenty to choose from, be it an airy beachside vacation rental or a glamorous villa, or perhaps a private room with bed and breakfast if you are on a smaller budget. Samba and Bossa Nova can be heard all over this wonderful Southern hemisphere cultural center, so grab a caipirinha, kick back, and let the Brazilian guide you in all its rhythms and dances.
Where To Stay in Rio: Beach Vacation Rentals or City Center Apartments?
Beachfront apartments are the perfect place to enjoy the nearly 250 days of sunshine that Rio de Janeiro receives each year. By browsing Wimdu's selection of Rio apartments and accommodation, you can discover the perfect apartment rental or bed and breakfast option with plenty of variety. Why not take advantage of a beautiful beach condo or vacation rental near Copacabana or Ipanema beaches, two of the world's most renowned public beaches. Enjoy a cachaça on your apartment balcony overviewing the beach and witness the gorgeous Brazilian sunset. Or, if you are in Rio de Janeiro just for a business trip or a short urban stay, it is definitely a good idea to look for a short term vacation rental or Rio bed and breakfast in the Centro or Santa Teresa districts. Santa Teresa is also a great idea for your accommodation due to it being near the city center but also harboring it's own community 'feel', and host of fantastic nightlife opportunities. Travelers to Brazil are often fans of staying with locals or renting an apartment in Rio de Janeiro from native Brazilians, as it increases their chances of not only meeting new and interesting people, but also of having higher quality accommodation than your usual hotel. Plus, your host might even offer up a few insider tips of where to go and what to do in this great city.
Did You Know? About Brazil

Half a million tourists join one million Brazilians to celebrate the Rio Carneval, which originally started out as a masked ball with waltz and polka dancing sometime in the 1700s.
Rio de Janeiro means "January River" in Portuguese, as the bay was mistaken for the mouth of a river by the explorer who discovered it on the first of January, 1502.
The stars on the Brazilian flag represent the night sky over Rio on the night that Brazil was proclaimed a republic, on November 15, 1889.
The rich in Rio like to dress up their pets (especially poodles) in full outfits of clothes, hats and shoes, some even having a different outfit for every day of the week.
Rio is a bicyclist-friendly city with over 46 miles of bike paths.
What To Do and See in Rio de Janeiro: Balneario Beaches and More
The beaches of Copacabana and Ipanema are beautifully white and long, and attract Brazil's most beautiful people, who you'll see playing beach volleyball, football or just parading up and down in all their bronzed beauty. Grab some coconut water, a pair of Havaiana flip flops (the original Brazilian flip flop sold at stalls all along the promenade) and go for a splash in the breakers. A visit to one of these beaches is a must, if only to have fond memories every time you hear "The girl from Ipanema" or Barry Manilow's "Copacabana". One thing that should definitely be on your itinerary is a visit up Sugarloaf Mountain, it is a fairly steep climb for about five minutes but the view at the top makes up for any exertion. You could also take the cable car, but the hike that begins in Pista Cláudio Coutinho in Urca is well-travelled by locals, and you can get the cable car back down for free after 6PM. Another must-see is of course the iconic Cristo Redentor statue (Christ the Redeemer), the second largest representation of Jesus in the world.There are a number of tours offered to the favelas, Rio's shantytowns, either in safari-like tour buses behind barred windows, or else on foot. The largest and most visited of the favelas is Rocinha, and the best way to see it would of course be with a local. To make sure you get someone trustworthy, it's best to ask either your Wimdu host or research online.
Eating and Drinking - From Caipirinhas to Açaí Berries
This city has plenty of unusual and exciting food and drink options, from chocolate covered pizza to the empada (a pastry filled with meat or cheese); from the indigenous and delicious caipirinha to the dark purple sorbets of the local açaí fruit, there's something here for everyone. Every 100 yards along the main beaches you'll find a bar selling cheap beer and refreshing coconut water, and there are thousands of vendors selling everything from sunglasses and bikinis to a variety of filling pastries. Bars stay open all night and have a great atmosphere, and there are plenty of underground clubs such as "Fosfobox" in Copacabana, "Dama de Ferro" in Ipanema and "Casa da Matriz" in Botafogo to keep you entertained well into the next day. Rio also has a reputation as one of the most gay-friendly international destinations in the world.
Getting Around Rio de Janeiro
The airport, Rio de Janeiro–Galeão International Airport, lies to the north of Rio. The best way into town is to take one of the four bus lines servicing the main beach fronts, the central bus terminal and the other smaller airport Santos Dumont. Once in Rio it's not that hard to get around. Most of the interesting sights lie to the South of the city. As the buses are rather hard to figure out, your best option is to either take a taxi (they're cheap!) or the safe and clean subways, especially for getting from Copacabana beach to the Downtown area. There are plenty of bike lanes in the city and it's also easy to get around and explore the neighborhoods by foot. It is normally recommended to have a local guide from one of the official tour guide companies when doing your own exploring on foot, however, as some parts of the city may not be as accepting of visits by unaided tourists.