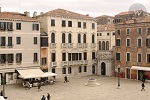 Venice. The romantic city of canals and bridges. It's no wonder that this Italian city is one of the country's most popular with tourists, receiving millions of visitors per year. Made up of 118 islands separated by canals and connected by bridges, Venice is truly unlike any other city in the world. Because of its uniqueness, however, hotels can be exorbitantly expensive (not to mention difficult to get to, thanks to Venice's lack of real roads), making this the perfect destination in which to try an alternative accommodation option, such as a rental villa.
Looking for a Villa in Venice?
Traditionally, staying in normal hotels in Venice has been ridiculously expensive due to the high volume of tourists visiting Venice each year. Venice is in the top five destinations for tourism in Italy. Check out some of Wimdu's selection of quality apartments and villas for rent in Venice. Try staying in a quaint bed and breakfast just outside the historic center. For the very brave, having a rental apartment right next to St. Mark's Basilica will give you direct access to the heart of Venetian history. For those who enjoy less-crowded and quieter Venice accommodation, maybe stay in one of the villas or vacation rentals in Mestre, the Venetian district just on the coast of the mainland.
Did You Know? About Venice
On average, about 60,000 people visit Venice each day – more than the number of people who currently live on the island full-time.
The whole city – along with the Venetian Lagoon – is listed as a UNESCO World Heritage Site.
The "Floating City" is actually said to be sinking.
Marco Polo, Vivaldi, and Casanova were all Venetian.
Venice has its own unique type of architecture, known as Venetian Gothic.
What You Should Do and Visit in Venice
Believe it or not, Venice is actually completely "doable" in a full day. From your rental apartment or villa, start out at Piazza San Marco, the main square in the city and also where you'll find the impressive St. Mark's Basilica, the Campanile tower, the Doge's Palace (former seat of the rulers of Venice) and the nearby Bridge of Sighs. Also be sure to check out the Rialto Bridge, which spans the famous Grand Canal and is covered in shops. Art-lovers shouldn't miss the Galleria dell'Accademia, which is full of pre-19th-century art, and you should also check out the Santa Maria della Salute church, which was built during an outbreak of the plague in hopes that the saint would help deliver the city from sickness. Whatever you do, be sure to ditch the map and enjoy getting lost in Venice's maze of canals and alleyways. The best way to experience this city is definitely on foot, with no sense of direction.
Venice: Ancient City on the Water
If the best way to experience Venice is by getting lost, then the best way to SEE the city is definitely from the water. There are plenty of options for you to do so, with the most famous of course being by gondola. Gondoliering is a serious profession in Venice – and a gondola ride will also come with a serious price tag. Each gondola can seat up to 6 people, and you should expect to pay roughly 80 Euro for a daytime ride. (And don't try to negotiate – it will just insult the gondolier.)You don't necessarily have to shell out for a gondola ride, however. There are also private boat tours, ferries, and even water taxis that will allow you to see the city from a different vantage point.
Why Not Check Out the Venetian Islands
As mentioned before, Venice is actually a big island itself (or, a bunch of little islands connected by bridges, depending on how you want to look at it) situated within the Venetian Lagoon. It's not the only island, though. There are actually dozens of islands in the lagoon – and you can visit many of them. Go to Murano to buy beautiful blown glass. Go to Burano to see the colorful houses. And go to San Giorgio Maggiore to visit the monastery and climb the church tower for a great view out over Venice.
Where to Wine and Dine in Venice
Venice is known for its high prices and low service quality when it comes to dining. Actually, most of Italy is. And, in Italy (and in the major cities especially), you will get charged just for sitting down at a table (you'll also get charged for water and bread, whether you ask for them or not). At a restaurant this really can't be avoided. But if you're grabbing lunch and can take it to go, do it. And, if you're just looking to have an espresso at a cafe, drink it at the bar instead of sitting down. This is what the locals do anyway, AND they won't be able to tack on a table charge if you don't sit down.
How To Get To and From Venice
Venice is served by Marco Polo International Airport, and is also easily reached by train, bus, and even cruise ship from all over Europe. Once in the city, you can get around on foot (preferred), by water taxi, or by traghetto (kind of like a gondola, but one that only takes you from one side of the Grand Canal to the other when you aren't near a bridge).